After nearly 15 years at Hyundai Dealerships, I decided to start my own business. I have always felt strongly that there must be a place out there for honest mechanics to take care of peoples vehicle needs. In 2009, Murray's Garage open its doors. It's been my passion for my entire career to help people. By starting Murray's Garage I went back to my roots. I apprenticed at small independent shop where customers were our focus. There it was instilled in me that repairs shops should be there to help people. I still firmly believe that preventative maintenance is one of the best things someone can do to keep their vehicle running well.

Whether your car needs a full overhaul or just an inspection so you could have peace of mind before a road trip. Murray's Garage was created so I can give my clients the best service and attention possible. Above all else, I focus on building trust with my clients. My top priority is to keep you and your family safely driving down the road.

Over the years, we have expanded to included car sales in addition to our service department. From one guy and a toolbox, to a staff of 8 people taking care of your every automotive need. I feel that I have been truly blessed with the privilege to hand pick the best of the best for my team. We still operate out of a small facility, but we are nothing short of top of the line. With the latest technologies, best automotive minds and front line staff. We are fully equipped to take care of your every need. From our family to yours, thank you.

Murray Fries,
Owner Operator
World's Most Okayest Boss
The Man Of Many Hats
Sales Guy
Former Mechanic That Pushed Out And Forced To Move Upstairs To The Sales Department…

Used Cars, Trucks and SUVs for Sale in Guelph- check our inventory now

Looking for Financing Options? We are here to help, Apply Today!
Repairs
At Murray's Garage we are proud of the high quality repairs we perform. We do this by using the latest technology so we can accurately test components, followed by installing the best replacement parts that exceed manufacturer's requirements. Wiper Blades to Spark plugs, Chassis Components to Brake Parts we install the best parts to keep you rolling.
Book an appointment today!
Murray's Garage Maintenance Program:
At Murray's Garage we are firm believers in preventative maintenance. The better you take care of your car, the better it will take care of you. We have designed maintenance plans for all makes and models that meet or exceed the manufacturer's requirements. We can also tailor maintenance needs to any budget and timeline. Modern vehicles require maintenance that many are not familiar with. Whether it's Direct Injection Services or Hybrid Brake Systems, we are here to help you better understand what's happening and why we need to do certain
services, and how they are done.
Proud Member of the Guelph Garage Owners Association (GGOA).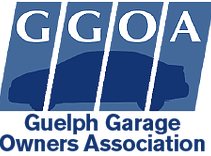 Discover each of our partners, On GuelphToday.com.
---
Sales:
| | |
| --- | --- |
| Monday | 8:00am – 8:00pm |
| Tuesday | 8:00am – 5:00pm |
| Wednesday | 8:00am – 8:00pm |
| Thursday | 8:00am – 8:00pm |
| Friday | 8:00am – 6:00pm |
| Saturday | 9:00am – 5:00pm |
| Sunday | By Appointment |

Service:
| | |
| --- | --- |
| Monday | 8:00am – 5:00pm |
| Tuesday | 8:00am – 5:00pm |
| Wednesday | 8:00am – 5:00pm |
| Thursday | 8:00am – 5:00pm |
| Friday | 8:00am – 5:00pm |
| Saturday | Closed |
| Sunday | Closed |