WELLINGTON COUNTY – An Elora man is walking from Owen Sound to Oakville in an effort to raise awareness, money, hope and to bury cancer.
That last part is not just a metaphor, but Mike Duhacek will literally be burying cancer in the form of wooden letters spelling the disease that he's pulling by a sled on his 200 km weeklong journey.
Duhacek started his walk — an initiative called helpmeburycancer — in Owen Sound on Saturday but was making his way through Arthur on Tuesday, about 10 km from his halfway point, he said in an interview.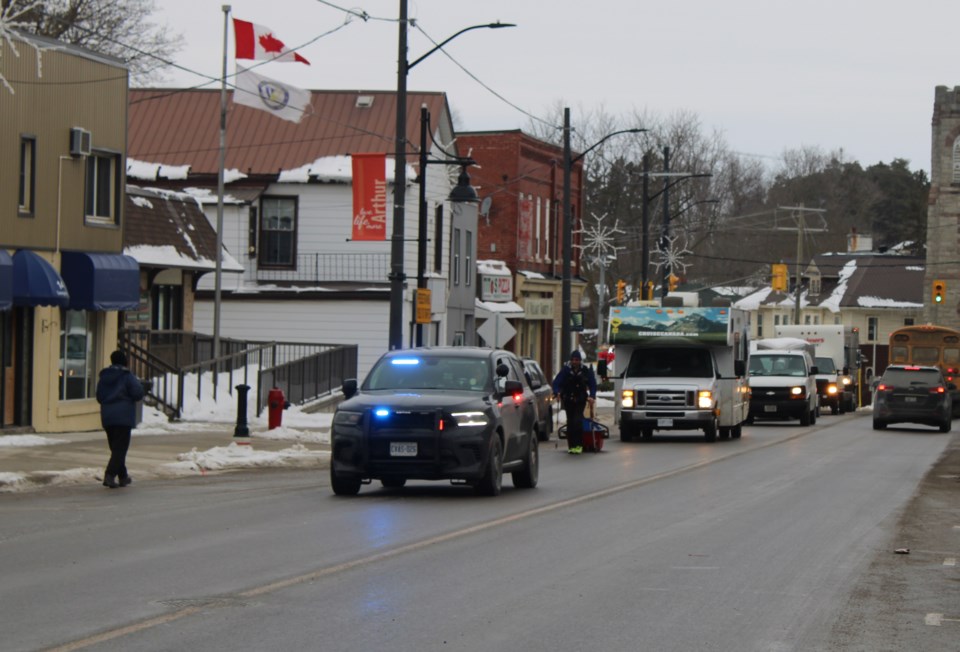 "I want to raise awareness for Canadian Cancer Society, I want to raise hope and raise funds to support childhood cancer," Duhacek said while walking through Arthur escorted by a police vehicle in front and an RV behind him.
This isn't the first time he's done this. It was exactly 10 years ago he pulled a 125 lb sled across Ontario dedicated to his mom. He went from Windsor to Ottawa and ultimately raised over $43,000.
"I dedicated that walk to my mom who was battling a stage four cancer," Duhacek said. "As we speak right now, my mom is working behind the scenes on this cancer-free 10 years later."
Ten years later, Duhacek said he wanted to do something big as he was named Canadian ambassador for Cops for Cancer and all funds raised will go towards that initiative which helps support childhood cancer.
He said he wanted to lead the charge to encourage people to support helpmeburycancer as a team.
"Let me be the vehicle that walks this distance and everybody can support it as a team," Duhacek said.
As he walked through Arthur, people would approach and hand him donations and words of encouragement. Hundreds of times a day, he's also hearing a lot of people's personal stories with cancer but he's happy to stop and create these connections.
"Being able to walk through the towns and be able to hear personal stories … that's what it's all about," Duhacek said.
"That's why I stop and talk to them, I want to hear those stories, I want to support them and I want to show them that we're out here fighting for them."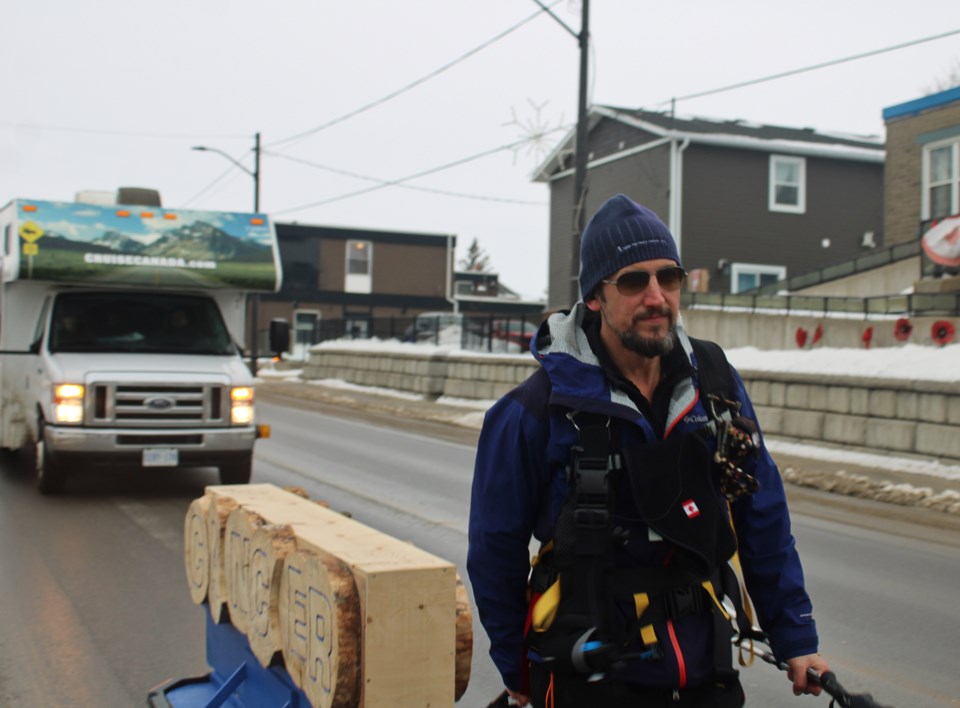 He's doing this while pulling 212 lbs on his back this time and battling February weather such as -28 celsius cold on Saturday and the threat of freezing rain on Tuesday.
But it's not supposed to be a "walk in the park" and a Feb. 4 start day was purposely chosen because it's world cancer day and a hard month weather-wise in Ontario.
"I want that to make me suffer and show that small gesture of what a cancer patient could feel with this weight on the back and being able to still persevere," Duhacek said.
Duhacek is travelling from Arthur to Elora on Tuesday, before travelling through Centre Wellington with a short stop at Elora Public School to Guelph on Wednesday. He's aiming to reach his final destination, Oakville, by Friday afternoon where he will do what he set out to do.
"I will literally take that block off and bury it in the ground where nobody sees it and it can't hurt anybody," Duhacek said. "It's a symbolic gesture just to be able to have a final burial site and have that as the end point of the initiative."
Duhacek is collecting donations as he goes but they can also be made at the helpmeburycancer website where people can also track his progress.