ERIN – Throughout a lengthy wastewater plant construction and associated works that will see the Erin and Hillsburgh communities impacted for more than a year, the local chamber of commerce is driving home the message they have a plan for local business to make it through.
This was the message at the forefront of the Erin Chamber of Commerce's first mayor's breakfast event at the Erin Legion Friday morning where a marketing and branding strategy to help promote local businesses during the wastewater plant construction was introduced.
Construction on Erin's $200 million wastewater plant has begun and early work on sewer lines in Erin can be seen. Work on this project is expected to last until October 2024.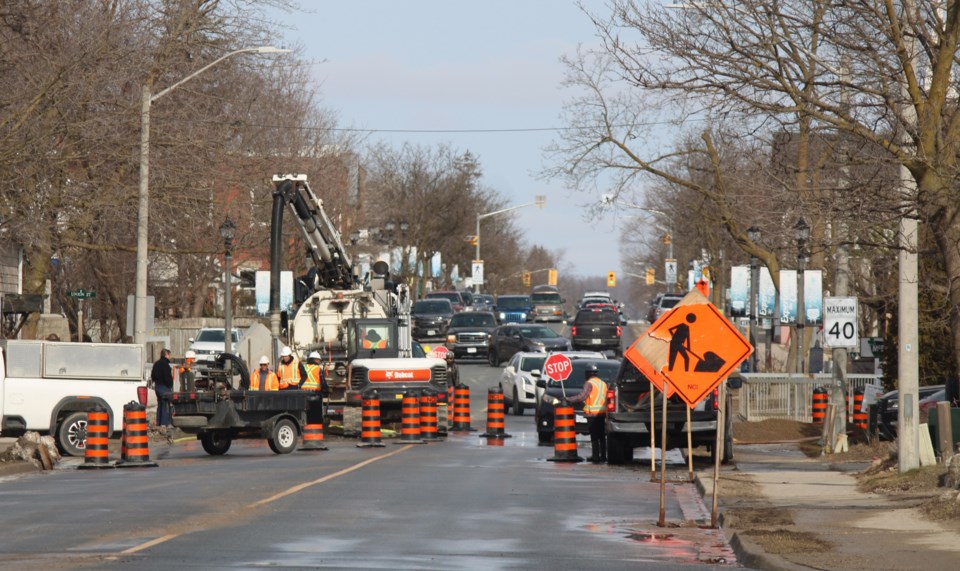 There was no way to sugarcoat it, said Coun. Cathy Aylard addressing the crowd, this construction will create stress and reach every corner of local's lives including transportation routes and shopping habits.
"It's going to be dirty, it's going to be dusty, it's going to be frustrating and it will test our patience to absolute no end and we won't be so charming," Aylard said.
Good news was the day before council had approved directing $41,000 to support a marketing campaign to support residents and businesses during construction, developed by a business impact group of residents and businesses that met for the first time only seven weeks ago.
Aylard said this group examined best practices and consulted with other municipalities that have gone through a similar experience with major construction.
What the group came up with was a two-pronged approach, one being "dig Erin" which is an online portal with all information related to the construction including interactive maps, schedules, detour routes, construction notices and real time updates.
Aylard explained the dig Erin logo will be on "everything" with a QR code to take people to the portal.
The second logo that will be seen throughout town is "Open During Construction" that features a green light for the 'O' in open to signify additional parking around town. Local businesses have access to use this logo and to modify it slightly to include their own.
"It's about moving forward and it's about being positive through all this," Aylard said.
"While construction may make shopping locally a bit more challenging, continue to show love to our community by shopping locally even if it does take a few more minutes. Our local businesses offer more than just goods and services, they are neighbours and our friends and an essential part of our community and they need our support now more than ever."
This was a strategy taken by the Town of Minto when it went through something similar. Keynote speaker Belinda Wick-Graham, Minto's director of economic and community development, explained the town went through two digs, albeit not as extensive as Erin's wastewater plant, that saw the heart of Harriston and Clifford under major construction impacting the heavy traffic that would normally pass through on the way to cottage country.
The businesses leaned into this and came up with "Harriston: we're digging it" and a similar campaign was used in Clifford. The campaign was similar to the one in Erin with lots of signage, advertising, contests, and encouragement to stay positive. Most importantly, Wick-Graham stressed, there was open communication between residents, businesses, the town and construction companies to make it through it.
They saw success with this.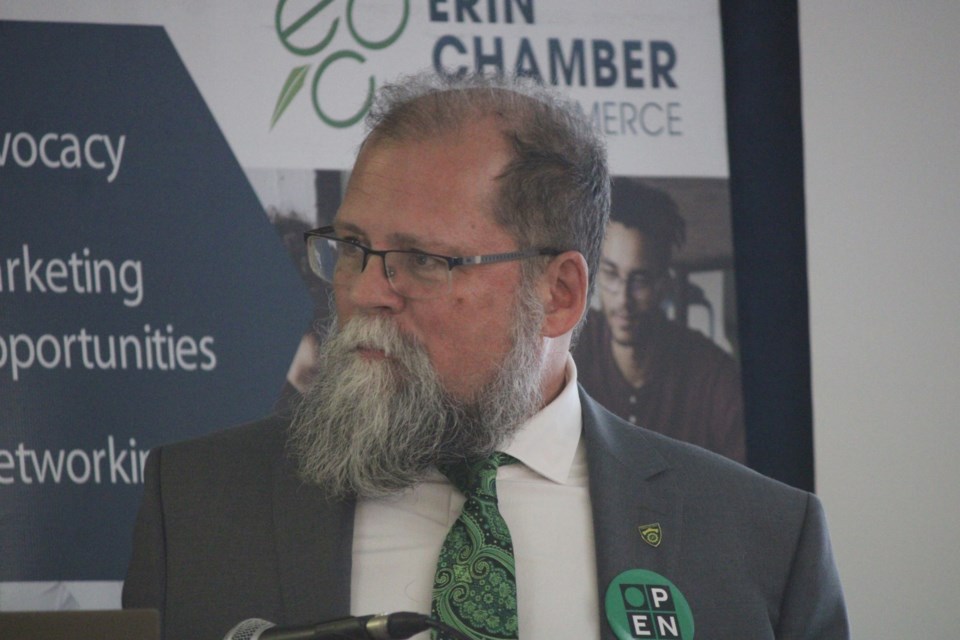 "We have a testimonial from the Home Hardware here, they projected and prepared for a 25 to 30 per cent loss but with the help of all the stuff we did, they only had a 10 per cent loss over the previous year," she said.
Mayor Michael Dehn was more sentimental in his talk, reflecting on living in Erin since the 80s and how much has changed in that time. For example, he noted the feed mill in Hillsburgh shutting down as the end of a routine of picking up horse feed on a Saturday morning.
"You kind of feel like you're losing a little bit of history, we're going to make some new history," Dehn said. "There's a lot of traditions that I think we all want to maintain as development continues."
He didn't discuss the construction a lot in his short speech but mentioned he was glad to see the community come together to create this plan that has worked for others in the past.
"So I'm optimistic, we've gone through some headaches, we're still going to go through some headaches but we're going to come out better at the other end," Dehn said.