June 25th marks the 10th anniversary of the Tour de Guelph, and the goal is to raise $1 million. As the cycling event approaches, registered teams are amping up their training and fundraising efforts for the day. Here are three corporate teams putting in invaluable and inspiring work to reach that goal.
Tacoma Engineers: previously raised over $15,000 and says the experience is "priceless"
Returning is Tacoma Engineers, who hope to be on the leaderboard again.
In 2021, Tacoma Engineers' Will Teron received an email from the Tour de Guelph committee prompting him to lead a team. An avid cyclist, Teron had supported the event as a solo cyclist in the past and loved the idea of doing it as a group activity with his work colleagues, who enthusiastically joined.
Tacoma Engineers has long supported community organizations, including The Foundation of Guelph General Hospital.
"Supporting our community adds a valuable sense of meaning and purpose to our work, which benefits our team immensely," Teron said. "The Hospital has been hit hard these past few years, so for us, it really is about supporting our community's health."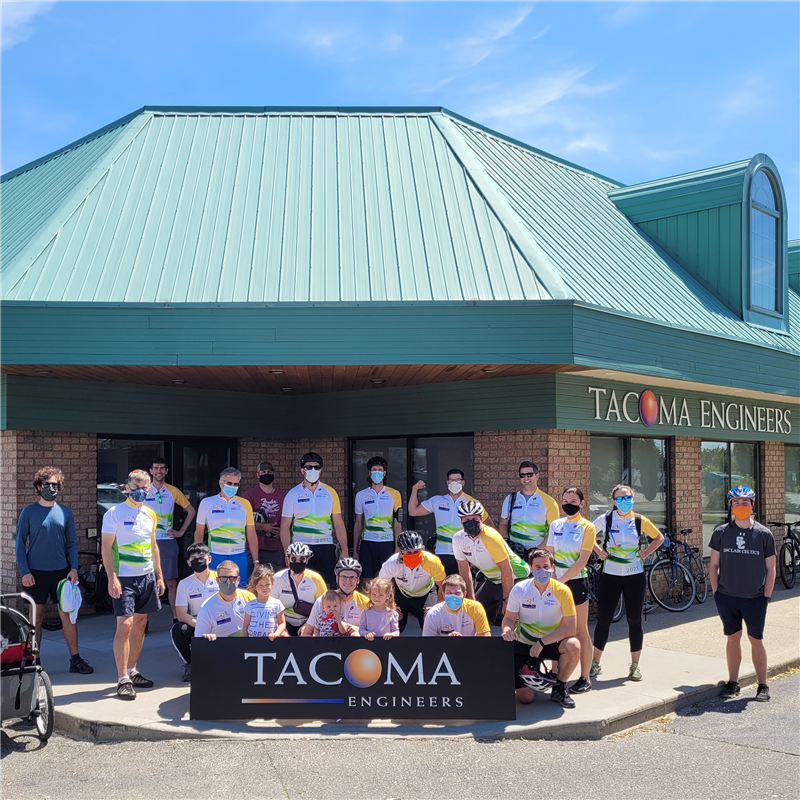 Teron explained how company support from Tacoma Engineers encourages their team's fundraising efforts.
"It helps to provide a sense of togetherness, which creates great team building throughout the company," he shared.
In 2021, 20 Tacoma Engineers staff participated in the ride and raised $15,375, and according to Teron, the experience was priceless.
"It's team building — you can't put a value on it. It's amazing to see everyone riding together and helping each other. It brings a sense of accomplishment and positivity— all while supporting our community."
This year, the 16-person team is close to doubling their fundraising goal of $5,000. Check out Team Tacaoma's influential fundraising page here.
DENSO Manufacturing Canada: combining giving back to the community with having fun
Also returning to the event as a corporate team is DENSO Manufacturing Canada.
The event's fundraising efforts resonate strongly with DENSO, a company that understands all lives are enhanced by helping to improve the places people live, work and play.
"DENSO associates genuinely care and want to be strongly linked to their community. Tour de Guelph gives us all this opportunity," said DENSO Guelph's Promotions Agent, Scott Love.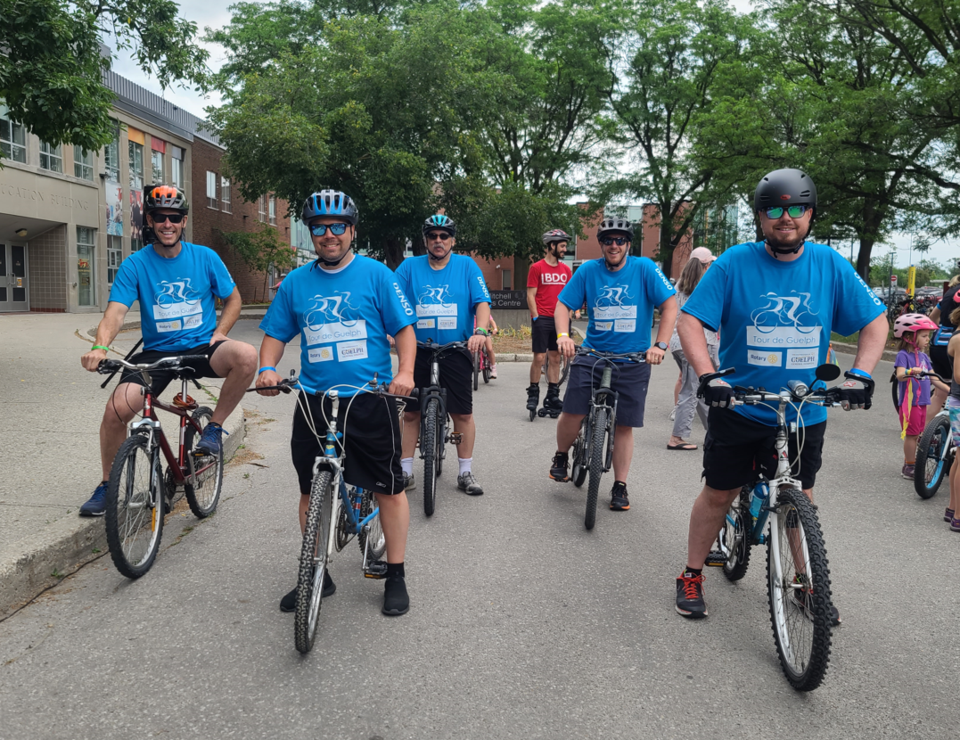 DENSO not only views the event as an opportunity to improve the community but as a chance to strengthen its staff's teamwork and sense of belonging in their workplace.
"We love to have fun at work," Love stated. "As such, we are thrilled that our involvement with the Tour de Guelph challenges us to think outside the box and organize many unique and fun internal fundraising events at DENSO to increase associate motivation and positive energy."
50/50 Raffles and clothing sales, with proceeds going to the Tour de Guelph, are just some ways DENSO is engaging its employees and creating a buzz to join. A sponsorship board on wheels, featuring all the riders and links to their fundraising pages, has been travelling around their building as well. Team DENSO t-shirts, which people proudly wear outside the office, also help raise awareness.
"Overall, when we can combine giving back to the community and having fun at work – it's a win-win," Love said.
South City Physiotherapy: long-standing corporate participants of Tour de Guelph
South City Physiotherapy has been participating in Tour de Guelph since 2019 and is the first corporate team to be inducted into its Hall of Fame in recognition of its long-standing participation and fundraising.
With their dedicated participation, they have raised a total of $12,816 and are already accomplishing fundraising success for the upcoming event.
"We are honoured to be inducted into Tour de Guelph's Hall of Fame," said the owner and operator of the clinic, Francine Dore. "Our clinic sees the importance of giving back to the community we serve, and this fundraising event is a great way for our team to have fun."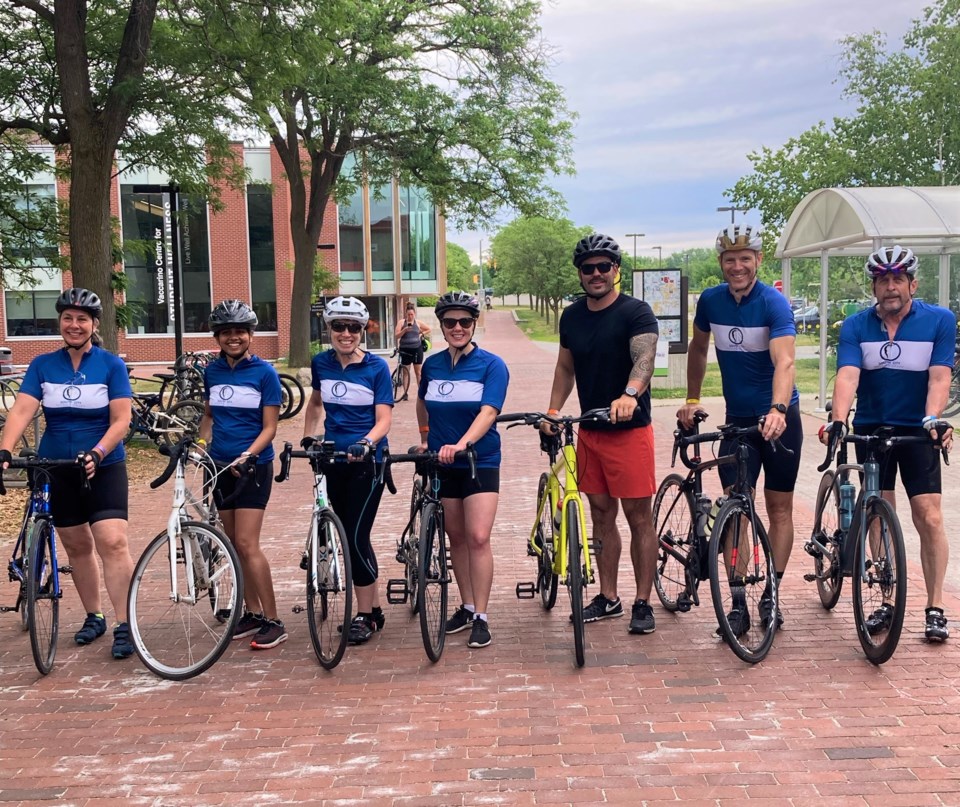 Jody Cummins-Lambert, the clinic administrator, brought forward the idea to participate to her colleagues after discovering it by searching for a family-friendly event that included fitness and philanthropy with her 10-year-old daughter. Together, Cummins-Lambert and Dore encourage staff to join in on the team-training sessions in the lead-up to the event each year.
"We get excited about training together — it's a friendly competition between us colleagues, and we are always helping one another to reach our goals. What is also awesome is our clients are our biggest supporters," Cummins-Lambert said.
The cycling event welcomes community members of all ages and abilities to register, fundraise and enjoy a bike ride together in support of Guelph General Hospital and numerous local charitable programs through the Rotary Clubs of Guelph South and Guelph Trillium.
Tour de Guelph, a ride for all ages and abilities
Tour de Guelph benefits The Foundation of Guelph General Hospital and numerous charitable programs through the Rotary Clubs of Guelph South and Guelph Trillium.
Registering a team is a great way to inject some fun and build a sense of belonging within your organization.
Cycling routes from 5k to 100k enable cyclists of all abilities to participate, e-bikes (non-throttle) are welcomed. Once a team is initiated, people joining the team can select any route they prefer.
Full details and registration is online: tourdeguelph.ca