In Iceland, books are lovingly exchanged as gifts on Christmas Eve and families spend the evening quietly reading and eating chocolate.
The practice is so popular that it has created a phenomenon known as Jolabokaflod, or "the book flood", which sees a surge in retail book sales from September-November.
With so many books by amazing local authors on the Guelph Lit List, this tradition could easily catch on right here at home this season.
The Ontario Book Publishers Organization's Read Local campaign provides readers the opportunity to discover local authors and "explore the themes, history, and relationships that make us who we are." Read Local highlights a collection of talented Guelph authors including award-winning novelist and children's author Kira Vermond.
Kids' books inspired by curiosity and fuelled by facts
Kira Vermond's innate talent for creating books that engage and entertain children is deeply rooted in personal experience. As a child, "I was so inspired by the world, and still am," Vermond explains. "What I love about my work is that I can take that curiosity and all of that awed wonder about the world, and I get to write books about what I love."
That thirst for knowledge and the ability to relate to young readers led Kira to work with the Ontario Science Centre, to contribute to a series of science-based books including "Why Don't Cars Run on Apple Juice" and her newest title, "Why Does My Shadow Follow Me?", which answers questions like, "Are birds really dinosaurs?" and "Why do we have butts?" with fact-based precision and bouncy dialect.
To create the books, Vermond chose fifty questions from thousands posed by young Ontario Science Centre visitors, and interviewed scientists and researchers on the topics. Then, "I did my own research, attached it to theirs, and came up with the answers. It was a ton of work but they had my back. I had real experts looking over everything."
Gifts that entertain and inspire
The holiday season is the perfect time to share the wonder of learning with children.
"When you give kids a book, you're giving them the world," says Vermond. "You're giving them learning, and imagination, and passion for subjects that maybe they didn't even know they were interested in. You're also giving them some time to relax and unwind around the holidays. And I think we can all use a little bit of that this year."
The year has been a particularly challenging one for Vermond, who found very personal strength and inspiration in her own writing process. The author penned her latest books, the Yellow Cedar Award-winning "Trending", and "Why Does My Shadow Follow Me?" while undergoing treatment for cancer at Grand River Hospital.
The experience "Gave me hope, and something to work on that made me happy. And I knew that whatever happened to me, I was going to leave behind something that was really special."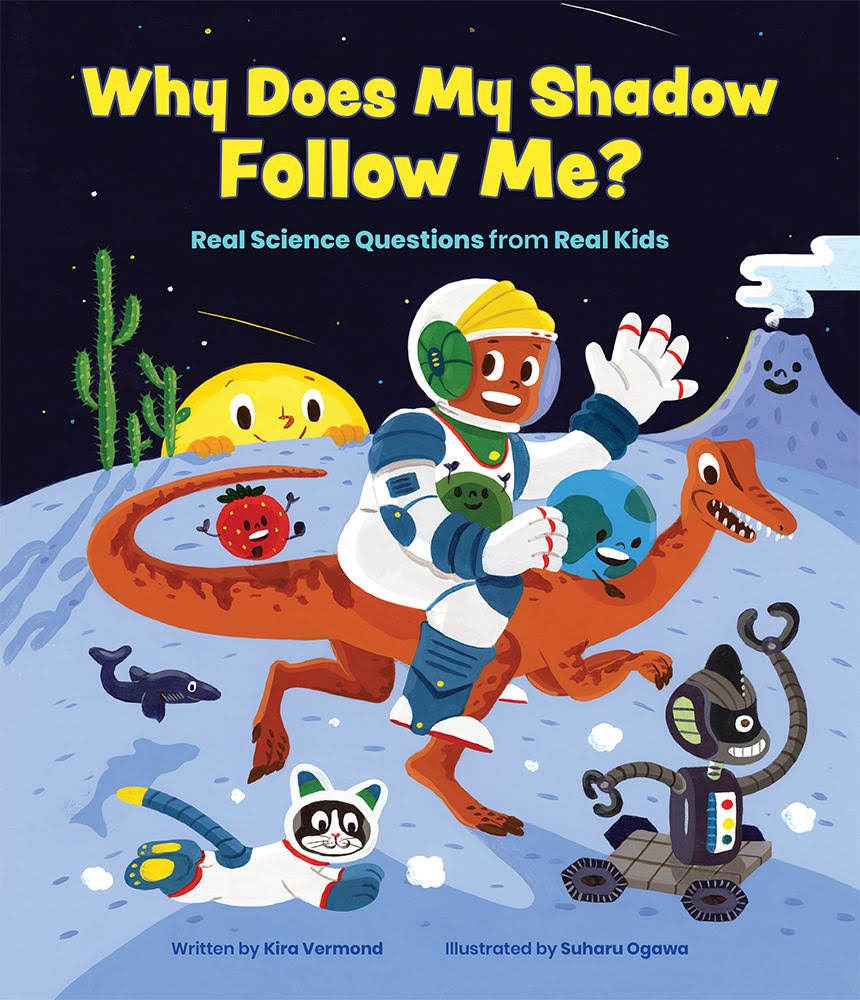 Today, Vermond is in good health and still exudes that childlike wonder and love of life. Yet, the question remains – why can't cars run on apple juice? "They actually can!" laughs Vermond. "You'll have to read the book to find out!"
Read Local this holiday season. Find books by Kira Vermond and other amazing Guelph authors at www.open-book.ca.