A positive shift to come out of the COVID-19 pandemic has been the 'support local' movement.
According to the Business Development Bank of Canada, 97 per cent of consumers decide to buy local to support the economy, and despite online shopping trends influenced by COVID-19 restrictions, 47 per cent of Canadian consumers seek options in their local area.
This is a promising trend for both local businesses and local economies.
Locally owned businesses can directly recirculate up to one-third of their revenues back into the community, in turn helping other local businesses grow alongside the local tax base.
How does Guelph stack up when it comes to supporting local?
Currently, GuelphToday is polling readers by asking the question: How are you supporting local this holiday season?
The poll began on November 19, 2021, and of the 1446 votes received as of December 3, 2021, GuelphToday can determine that 923 are from within the community.
What have we found out so far?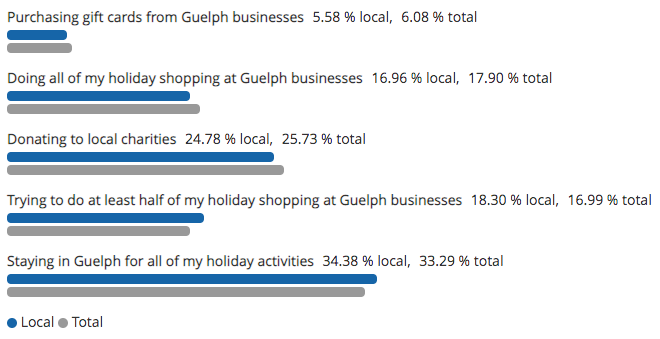 Guelphites (34% of respondents) are looking to stay put this holiday season while others (25% of respondents) are committed to supporting local charities. And while the poll is ongoing, 17% of community members plan on doing all of their holiday shopping at Guelph businesses. This is a promising sign for an economy that, like most, has been impacted by the pandemic.
"Local businesses are an essential component to a healthy and thriving community and we're encouraging residents to support local businesses whenever they can this holiday season," said Shakiba Shayani, President & CEO, Guelph Chamber of Commerce. "Whether you're looking for a service provider, a new restaurant to try, or a unique local experience – there are so many opportunities to choose local with Guelph Shops."
There are many ways community members can get behind the support local trend in Guelph this year.
"This holiday season our local businesses need our support," said Christine Chapman, Manager of Economic Development, City of Guelph. "We want Guelphites to consider local when doing their holiday shopping, purchasing gift cards, donating to charities, and planning winter activities. We have a diverse set of businesses that offer a variety of products and services, and provide a convenient close to home option – and you can start with Guelph Shops."