I turned one of my biggest insecurities into a career...
Which I never thought I'd be able to say.
So... what's my biggest insecurity?
Well, let me start from the beginning.
Six years ago, I had severe cystic acne, and deep ice pick acne scars.
I'm not talking about a pimple here and there.
I'm talking about the kind of acne that gives you anxiety leaving the house.
The kind that makes you stand-up dates.
Miss parties.
Wear makeup all night at a sleepover.
And never, EVER post photos without makeup or filters.
At this point in my life, I was feeling pretty low. I thought I'd tried everything: prescription creams, birth control, acne washes, and all kinds of skincare.
I went for my first dermatologist appointment in October of 2015, and I was put on Accutane.
I did a 7-month course, and slowly, month by month my acne started to clear up!
I was happy. All I wanted was for my face to look normal and healthy.
Now, not to be pessimistic, but if I'm being honest, my happiness was short lived.
Once all the cysts and inflammation cleared up, I started to notice these very deep acne scars (I want you to picture Leo Balmudo, aka Craterface from Grease).
I remember thinking to myself, This is never going to end.
First, the acne.
Then the scars.
Will I ever move past this consuming feeling that I need to "correct" my face?
So... this is where the story really starts.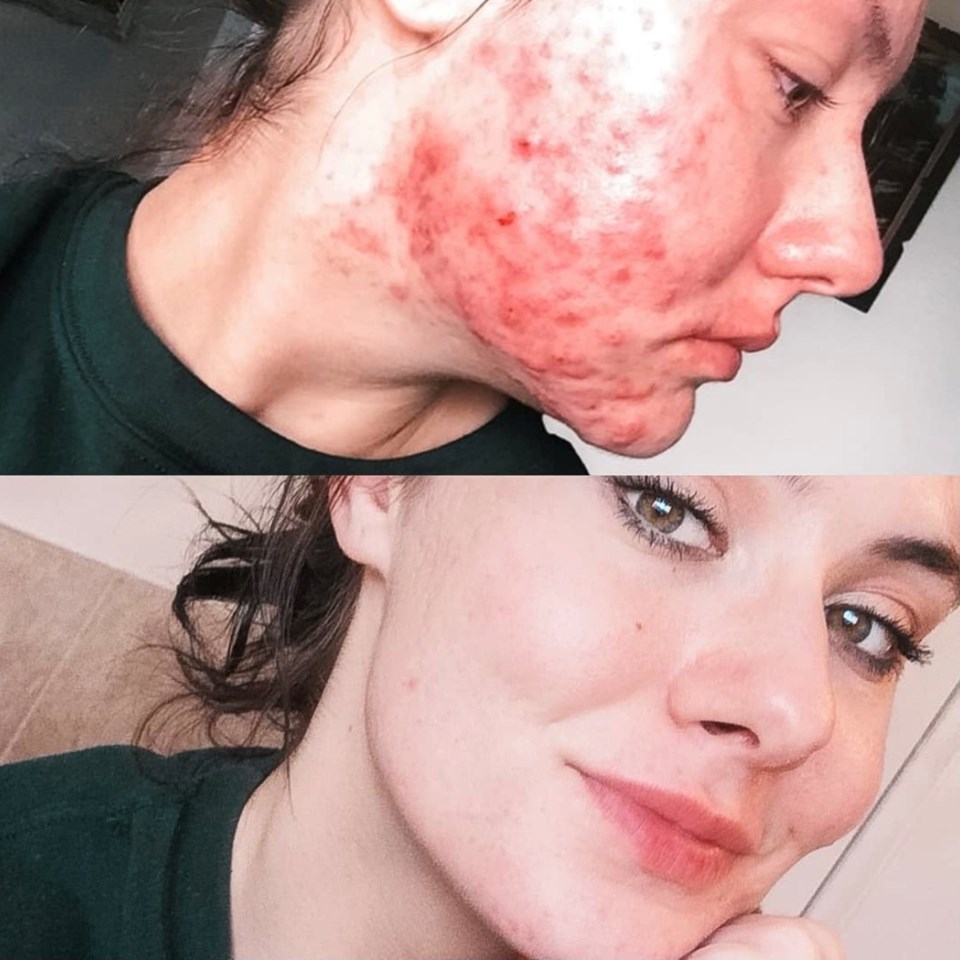 I started researching laser therapy. I used to stay up all night researching the difference between ablative and non-ablative lasers, fractional lasers and how they worked, the different depths and wavelengths, trying to determine which resurfacing laser I would need to correct my skin.
I came to ArtMed as a client for the first time in May 2018. The first laser treatment I ever did was a Sciton Profractional Resurfacing treatment to correct deep textural damage.
At this point, I already knew so much about resurfacing lasers from my own research that I decided I should go to school for this and help others who are struggling with the same thing.
When I signed up for the Medical Esthetics program at Gina's College in Waterloo, it felt so right. I knew I would be an amazing esthetician because I can relate to the people that are coming to see me. I knew that I would connect with people in the acne community.
Fast forward to present day....
I'm currently a Medical Esthetician, and in my career I've helped clients with sun-damage, age spots, melasma, wrinkles, stretch marks, surgical scars, hair removal, and rosacea but I will always have a deep spot in my heart for the acne community. I understand you and I am with you.
I want to share my method for treating acne and scars both in clinic and at home, and if this can help even one person then I'm so glad.
In the clinic, I treat acne and scars in a two-part method:
Part One - Acne Maintenance
If you are still currently breaking out, then we need to get the acne under control before we move on to treating the scars. If you have cystic acne caused by a hormonal imbalance or gut problems, then BroadBand Light would be the best option for you. BroadBand Light has no downtime and kills acne P bacteria on the surface and just below the skin. It also treats redness and inflammation. If your acne looks more like blackheads and whiteheads, then I would suggest a series of chemical peels using Salicylic and Glycolic acid. Once the skin is no longer congested then we can move on to Part 2.
Part Two - Scar Correction
Resurfacing lasers help to remodel the skin, and are good for people with deep acne scars, very large pores, and textural differences in the skin. Your skin type will determine what resurfacing laser I will recommend for you. This is my favourite part in treating acne because the before and after photos are astounding, and resurfacing lasers, like Sciton's Profractional, have personally changed my life.
Acne at Home Care
Here are some active ingredients to incorporate into your skin care routine:
Salicylic Acid - It breaks down oxidized dirt, oil and dead cells from inside the pores.
Retinol - My favourite!! Helps with cell turnover…which means correcting texture (large pores, acne scars, fine lines).
Glycolic or Lactic Acid - These both exfoliate dead cells on the surface, making dull and congested skin look brighter.
Hyaluronic Acid - Hydration baby! By hydrating the skin properly you will reduce inflammation which helps with acne, especially if you're using retinol and acids that can make you feel very tight and dry.
Benzoyl Peroxide - Don't dry out the skin by putting this everywhere. Trust me. Just use on large cysts.
Mineral SPF - This helps protect cells from damage (which is important when fighting acne!)
The internet can be overwhelming when it comes to acne with product reviews and influencers... so, if you're struggling, go for a consultation with a professional that you trust! I'm trained to help with all kinds of skin concerns, and you can see some of my work at www.instagram.com/thelazermedic/ or visit artmed.ca.