A strange thing happens when the phone rings at Oosterveld Heating & Air Conditioning: it's answered by a real human being.
"With all the technology and outsourcing options available to businesses these days, connecting to the community is becoming more and more of a challenge," says Alysha Johnson, the company's Operations Manager. "At Oosterveld's, we work hard to make sure that the people in our community always know how important they are to us".
As part of that commitment to the community, every year, in partnership with the Guelph Storm, the company organizes a winter wear drive, with every stitch of clothing that is donated going directly to the community that Oosterveld proudly serves. This year's event takes place on October 25th. The company recruits volunteers, who collect hats, coats, boots, mitts and scarves, and donates them to a charity that helps to overcome poverty in Guelph.
"We wanted to do something that made a difference," Johnson explains. "Given that our company mandate is to provide affordable heating and cooling solutions to the residents of Guelph and its surrounding communities, the winter wear drive felt like a logical extension of that. It's been an amazing experience for all of us."
The company's employees all participate in the drive and donations come from a wide variety of local donors.
"The idea," says Johnson "is to make sure that we remain responsive to the needs of the people in our local communities, particularly Guelph, Rockwood, Acton, Fergus, Elora, Puslinch and Cambridge. The drive really underscores that commitment, which translates to every part of our business."
Case in point: Oosterveld's has been awarded the Centurion award for thirteen straight years, and the Readers' Choice Award for over eighteen years. And if that isn't enough positive reinforcement from the community, they also boast over 1600 positive reviews on their website.
"In a business climate where a lot of companies are subcontracting out installation services to the lowest bidder, we hire and train are own installers," says Johnson. "That may sound like a business tactic, but it's actually part of the same overall commitment we have to recognizing and servicing the needs of our local community."
For information on how to donate to Oosterveld's Annual Winter Wear Drive, call 226.314.1340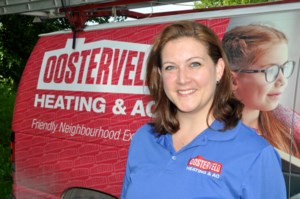 This Content is made possible by our Sponsor; it is not written by and does not necessarily reflect the views of the editorial staff.