Guelph is lucky to have several local co-op programs that help place high school students with special needs in the workforce.
One of these brought JD Kus, 25, to East Side Mario's® Guelph back in September of 2013. Then a student at Our Lady of Lourdes Catholic High School, JD did a semester of co-op at the restaurant. He was part of a program called School to Career, where students are placed in workplace environments—and earn school credits—developing skills and testing the waters, to see where they can succeed.
He loved it so much that he came back, doing another semester of co-op the following year. He even continued during the summers, through a paid placement arranged by 2nd Chance Employment and one of their programs at the time called Gain Real Opportunity in the Workforce (GROW) for kids with disabilities.
"He was with us in a co-op capacity and a paid placement for two full years before he graduated high school and we brought him on as an employee," says Darryl Danniels, Assistant General Manager.
There was never any question that he would be hired after graduation.
"JD is a ray of sunshine. He comes to work excited and happy every single day," says Danniels. "He always has a plan. He has thought about work before he comes in and he knows what jobs he wants to accomplish that day. We always look forward to the days that he works."
Before the pandemic, JD's regular work schedule was Wednesdays to Fridays, 9 am to noon.
"His attitude is infectious. People want to work the mornings that JD works. When people want to be at work at 9 am because they get to work with JD, that says something," says the manager. "He stays on task; he's extraordinarily social but he manages to be the social butterfly while always working on a task."
The restaurant is clearly a good fit as it has a family-forward atmosphere and a significant number of long-term staff—one employee just retired after 28 years. "That's extraordinary longevity in an industry that has a near 80% turnover rate per year," says Danniels, who started in 2004.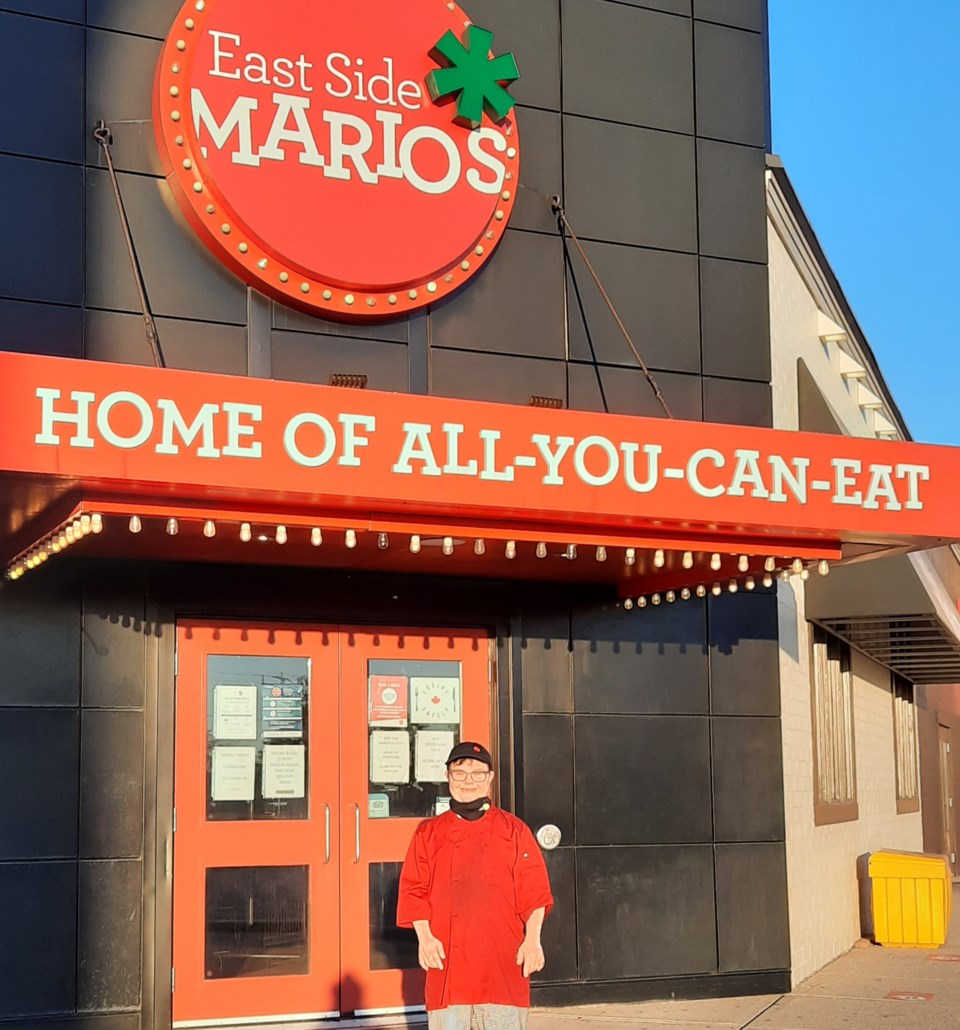 JD is known for consistently showing initiative. During his co-op period, he was interested in every aspect of the restaurant. He would help set up the dining room and tables, he liked to talk to customers and would recognize people from his school. He helped the bartenders by making some of the garnishes.
"He was so interested in all things food that after his co-op with us he went out and got his Food Handler Certificate and he still, to this day, takes cooking classes," says Danniels. Before the pandemic he took cooking classes on Thursday nights; he would come in the next day and tell staff about what he had made.
"I got experience two places: in high school in the cooking class with my teacher, Ms. Dickie, and I also did cooking classes as well (at Live & Learn)," says JD.
JD is one of several people that management has ever taken on in a co-op capacity who started coming with a job coach and moved on to being fully independent. At the beginning, someone accompanied him to work every day to make sure he got there on time and would take him home on time. Now takes the bus to and from work on his own.
His job involves a lot of chopping, as well as portioning the pasta for individual dishes. "I do food prep and portioning," explains JD. He also does all the takeout salads, works the new tomato machine and sometimes makes the pizza cookies.
"I could just go on about what a great place East Side Mario's® has been for him to work."
"I love the job so much. It is very great. It's awesome," he says. He is proud of the uniform he wears to work—his chef's coat, hat and proper shoes.
"They've been very kind to him and inclusive," says his mom, Lois. "I could just go on about what a great place East Side Mario's® has been for him to work. They've included him in all their social functions. They've all been very good to him."
"They're so nice. I like all the staff. I've made good friends here," says JD, who will be celebrating five years of employment at the restaurant this August. He has made a connection with his colleagues outside of work; they've gotten together and gone to see a movie.
Employees Tiffany Buck, Rebecca (Pippy) Herriott and Ben Redford have worked most closely with JD, teaching him everything he has learned and helping him transition into independent employment. For several years Jeff Mawhinney, a teacher with the Wellington District Catholic School Board, was another great support, serving as his job coach.
His love for food has carried over into his home life. "It makes me become a top chef, improve my skills," he says. Every Thursday is pizza night in the Kus household. He also enjoys making pasta dishes.
JD's time at the restaurant has been so successful that Danniels plans to continue to employ him for as long as he's interested.
These programs deserve more attention, says Jerry Auger, Owner/Operator. "Businesses either don't participate or if they do, once the program's over, they don't keep the kids on."
Danniels agrees. "There are definitely some great programs out there and some great people in them."
For more information, visit East Side Mario's Guelph or call 519-763-7861.