Common concerns such as fitness, nutrition, weight and hormones tend to top the list when talking about women's health issues. These are all vital to our overall well-being, but it is time to discuss the importance of intimate feminine health as well.
Truth is, no matter how much time and attention we pay to healthy diet and an active lifestyle, there are factors affecting feminine wellness that are simply out of our control. Childbirth, menopause and aging contribute to vaginal health issues that can have serious and long-lasting effects on our physical and emotional wellbeing. The good news is that treatments are available to reverse the effects of time and trauma and maintain vaginal health. Votiva vaginal rejuvenation at AFYA Skin & Body in Guelph is a safe and comfortable way to help restore and maintain intimate health without invasive surgery.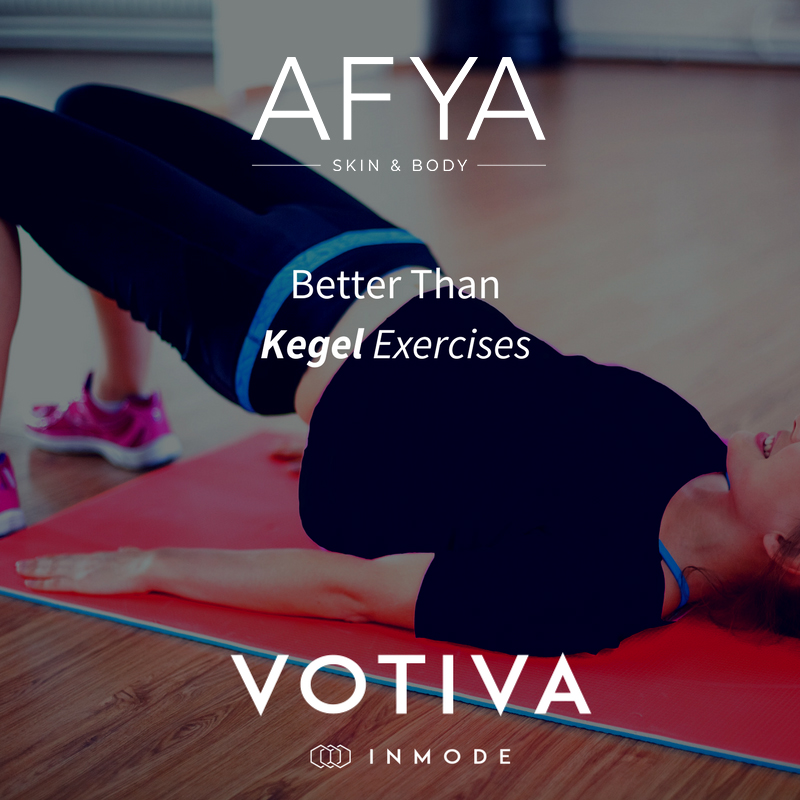 AFYA Brand Manager Sarah Tennent explains how their Votiva treatment is helping women of all ages who experience common, but often unspoken, intimate health issues. "So many women suffer in silence and wait for their yearly gyno appointment or are not comfortable speaking with their family doctor. Votiva tightens the vaginal muscles to help with bladder issues and sexual health. It is a Godsend for women and a great alternative to invasive surgery."
Non-surgical Votiva vaginal rejuvenation can help with:
Mild Bladder Issues: Most women experience some degree of incontinence in their lifetime, and the problem is more prevalent with age. Urine leaks can happen when coughing, sneezing, exercising and even laughing – but there is nothing funny about it. Votiva treatments help to regenerate vaginal tissues and strengthen the existing muscles, giving women regained confidence and more freedom to live, love and laugh without inhibition.
Dryness: The pain and discomfort of vaginal dryness is all too common. Vaginal dryness is a result of decreased hormones and the natural aging process, and cause itching, discomfort and painful intercourse. Non-surgical Votiva treatments specifically target the tissues in the vaginal area that creates lubrication.
Sexual Function: Confidence is not only empowering, it's downright sexy. Intimate discomforts such as dryness and stretched labia often lead to painful intercourse, reduced sexual fulfillment and a decline in feelings of satisfaction and personal confidence. By correcting those underlying issues, Votiva vaginal rejuvenation can help you regain your confidence and renew your satisfaction.
Changes in Appearance: Age, childbirth and menopause can all contribute to looseness in the vaginal area that is not only physically uncomfortable, it can alter certain bodily functions and be aesthetically unappealing. Votiva delivers pain-free radiofrequency waves to the vagina and labia to help tighten the muscles and restore a more youthful appearance and performance.
AFYA Skin & Body is one of only a few facilities in Ontario offering Votiva. Treatments are completed by nurses right in the clinic, and clients report little to no discomfort during or after the procedure. "Our clients have been extremely happy and impressed with the results. They are so incredibly grateful that they just want to shout it from the rooftops," Tennent says. "We are just starting to realize the importance of post-care when your body has been through something as traumatic as childbirth. These problems are not talked about enough, and a lot of people don't even know this type of treatment exists."
You deserve to feel confident and healthy in your skin. Click here to make an appointment to speak with a clinician about the benefits of Votiva non-surgical vaginal rejuvenation.
AFYA Skin & Body
55 Delhi Street, Guelph
519-803-7435