Welcome to the 2022 Holiday Gift Card Auction!
Thursday, December 1 at noon to Tuesday, December 6 at 8 p.m
Please READ THE RULES, particularly the part about credit card authorizations. In short, each time you place a bid, the system places a hold authorization for that amount on your card. When you are outbid, the hold is released. If you bid $50 on ten different items, this means $500 of your available balance will be unavailable until you're outbid. Any winning bids at the end of the auction are captured - meaning your card is charged. Buy Now items will be charged to your credit card at the time of purchase. We recommend you use a credit card, not a debit card for this auction. A released hold may take several days to reflect on your statement.

What happens if I win?
After the auction closes, it may take us a few days to process the results. If you have won an item, you will receive a confirmation email, which will contain pick up instructions. For any auction related questions, please email [email protected]
Closed on Tuesday, December 6, 2022 8:00:00 PM
---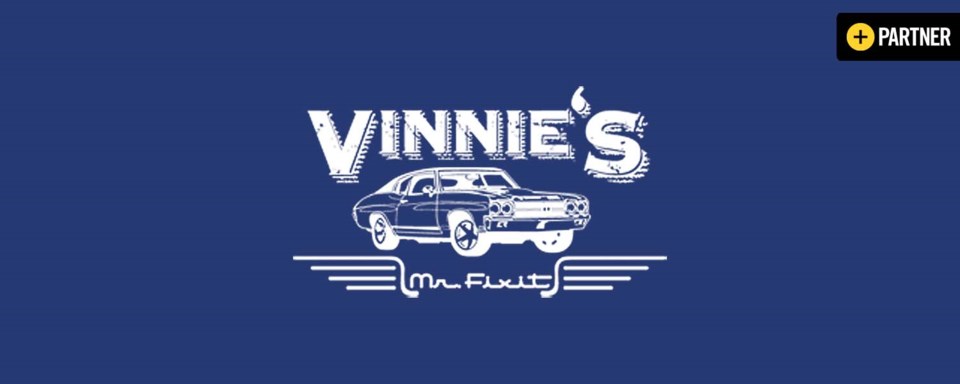 About Vinnie's Mr. Fixit
---
---
Both locations are open to serve you during the Covid-19 lockdown. Taking on all urgent work and seasonal tire swaps at both locations. Full services available.
Please note: We will be taking extra precautions to protect employees and customers at this time. Please plan to leave your vehicle for repairs when possible. Wait times may be a bit longer as we take extra precautions to protect everyone.
---
Vinnie's Mr. Fixit started as a home garage, and has since grown into a six bay shop with six licensed mechanics. Since 2004, our values have remain unchanged. We have always, and will always look to treat you with quality service, integrity, and the trust that you deserve. Each of our team members understands the importance of friendly, up-front, and transparent service. At Vinnie's Mr. Fixit, we know that customer happiness and satisfaction comes before all else, which is reflected in our everyday service and customer care.
Technology and techniques are always changing, which is why our knowledgeable team regularly attends courses and training sessions in order to better serve you, and your vehicle. Vinnie's Mr. Fixit provides only the highest standard of automotive care, including a number of different services.
Vinnie's Mr. Fixit Offers:
Brake service
Front end & alignments
Tune-ups
Electrical
Ignition
Carburetor
Fuel injection
Air conditioning
And many more services!
Our team is ready to provide you with the service that you deserve. Contact us today to book your appointment for all of your automotive maintenance needs!
Hayes Avenue
Address

30 Hayes Ave.

Phone

(519) 821-8880
Woodlawn Road
Address

41 Woodlawn Rd West

Phone

(519) 821-1888