Welcome to the 2022 Holiday Gift Card Auction!
Thursday, December 1 at noon to Tuesday, December 6 at 8 p.m
Please READ THE RULES, particularly the part about credit card authorizations. In short, each time you place a bid, the system places a hold authorization for that amount on your card. When you are outbid, the hold is released. If you bid $50 on ten different items, this means $500 of your available balance will be unavailable until you're outbid. Any winning bids at the end of the auction are captured - meaning your card is charged. Buy Now items will be charged to your credit card at the time of purchase. We recommend you use a credit card, not a debit card for this auction. A released hold may take several days to reflect on your statement.

What happens if I win?
After the auction closes, it may take us a few days to process the results. If you have won an item, you will receive a confirmation email, which will contain pick up instructions. For any auction related questions, please email [email protected]
Closed on Tuesday, December 6, 2022 8:00:00 PM
---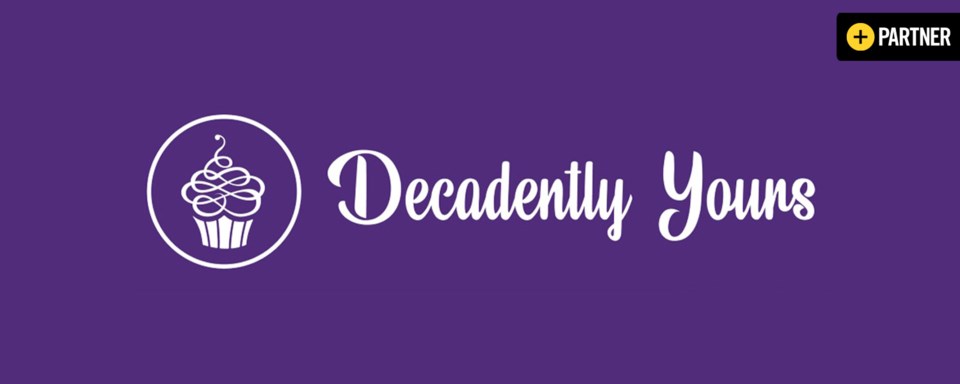 About Decadently Yours
Open Tuesday to Friday 11am to 4pm and Saturday 11am to 3pm
We are offering call ahead for curbside pickup or delivery. Payment methods are e-transfer or calling with a credit card. If you need to pay by debit, we only allow 1 person in the store at a time.
---
At Decadently Yours, we pride ourselves on creating delicious handcrafted baked goods that will be the centerpiece at any event. We are proud to be Guelph's number one bakery for all things sweet. Each of our creations are created from scratch, in-house, and made from locally sourced ingredients. Our icing is made with only butter, and made fresh daily for all of our baked goods.
No matter the event, Decadently Yours is happy to help to bring some sweet treats to your day. We specialize in birthdays, showers, weddings, sporting events, corporate functions, and many more. We offer 10 different cupcake flavours in our store, and we are happy to offer custom designs for cupcakes, and cakes!
Our selection of cupcake flavours include, Toffee Crunch, Strawberry Cheese, S'mores, Skor, Snickers, Lime Margarita, Funfetti, Chocolate Fudge Sundae, Coconut Raspberry, Chocolate P'nut Butter, Chocolate Caramel, Boston Cream, Black Forest, and many more. Check out our website for a full list of flavours that we offer.
Some of our favourite cake flavours include, Chocolate, Vanilla, Marble, Red Velvet, Lemon, and Toffee Crunch. We offer a number of different fillings to complete your cake, including, Chocolate or Vanilla Buttercream, Strawberry, Raspberry, Lemon, Custard, Chocolate Fudge, and Caramel. Other flavours and fillings are available upon request.
---
119 Surrey St. E
Address

119 Surrey St. E

Phone

(519) 265-5314