Using their knitting and crochet skills, a mother and daughter are helping keep Guelph's newest residents warm while they are at the hospital.
Janet and Alison Dunkley are behind some of the colourful wool hats given to newborns at Guelph General Hospital. Together, the duo have made over 500 hats for babies.
Along with the hats, they also make and donate blankets for patients undergoing chemotherapy and 'fiddle mitts,' also known as therapy gloves, for patients with Alzheimer's disease.
"It's a lot of fun, we get a lot of joy out of doing it, and we get them done very quickly,'" Alison said about their work.
Recently, the two made hats for babies born on New Year's Eve and New Year's Day, which have tags reading 'January 2023.' The tags were made using an embroidery machine available in the maker's space at the Guelph Public Library Westminster branch.
"You make it on some blanket fleece and you cut it out and stitch it on, and they (the library staff) were quite pleased about it, and they took pictures," said Alison.
The donations are welcomed by the hospital. While Guelph General helps deliver babies within the community, the hospital also helps expecting families from other communities as well.
"I think they said they had about 1,700 babies born last year at Guelph General, so it is a lot of hats," said Alison.
Years ago, Janet said she was brought up to the room in a hospital in Ottawa where the premature babies were kept. She said one of the babies she saw weighed only a pound, but was 'still going strong.'
"I just thought, 'She should have something on,' because they don't put clothes on them when they're that tiny and I thought, 'She needs a hat,'" said Janet, who was inspired to start knitting hats since then and also made christening gowns and little blankets.
After moving to Guelph in 2010, Janet said she kept making hats.
"It just seems to have worked out like that," she said.
Alison began helping her mom make hats about eight years ago. Instead of knitting, she crochets. Both said they make about 30 hats before donating them to the Guelph General Hospital Foundation.
Alison adds the women at the hospital foundation now know them and will take out the hats to look at them.
"I started doing the hats because I wanted to make something small and something I can do quickly, I've followed in my mother's footsteps," said Alison, adding they have done Christmas-inspired hats in the past.
When it comes to knitting a hat, Janet said she can finish one within an evening. To help knit the right sized hat, Janet uses a baby head she carved out of wood as the model.
"I try all different stitches and make them in all sorts of colours," said Janet, "and I like the pastels."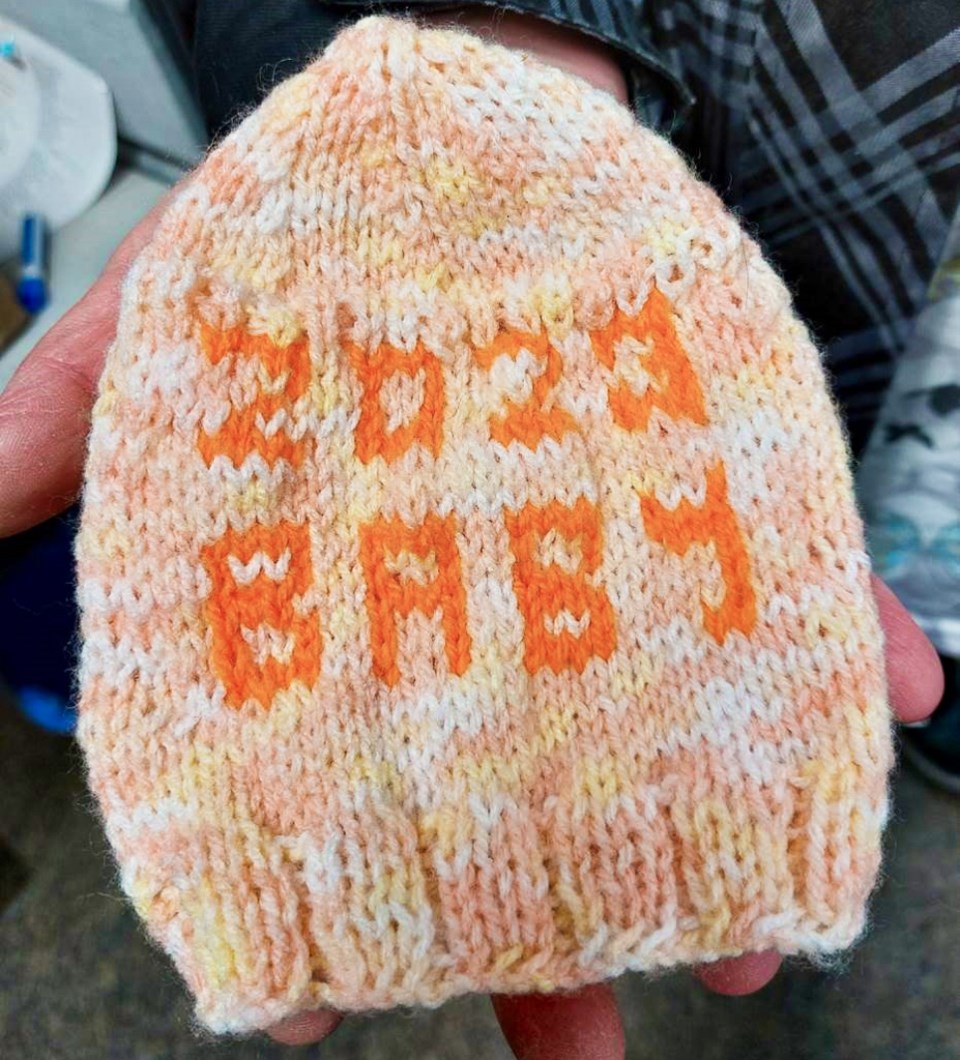 Besides helping out the community, stitching together has also become a way for them to bond.
"We're good friends anyways, but we put on audio books and start doing them," said Alison, who likes to use bright colours in her crocheted pieces.
"It's a very good pastime," adds Janet, who has been knitting since the age of four and was taught by her aunt.
While the duo enjoy sharing their love of making things with the community, Alison said they are not the only members who use their talents to give back.
"There is a group at the library where they meet once a month, at one of the libraries, and the yarn is supplied and packaged, and they knit things for the hospital and other charities," she said.
With Ontario hospitals dealing with staffing shortages and other challenges, she adds it is a 'good feeling' to be making and dropping off these hats and the blankets.
"I don't have a lot of money, and I've always thought about giving monetary donations, but I can buy the yarn, make them things and give them the things that they need."