Freshly prepared meal deliveries can be a lifeline for those in need of healthy food. At Delicious Direct, Red Seal Certified Chef Dan Baker is raising the bar on taste and nutrition while serving his Guelph community.
Every Wednesday morning for the past three years, Baker has been donating freshly-prepared breakfast burritos for Hope House clients.
"I first heard of Hope House in 2018 with the Joy Home Tour, explains Baker. "An acquaintance was the co-ordinator and asked me to serve hors d'oeuvres at one of the homes. At that point I learned more about Hope House", and a lasting partnership was born.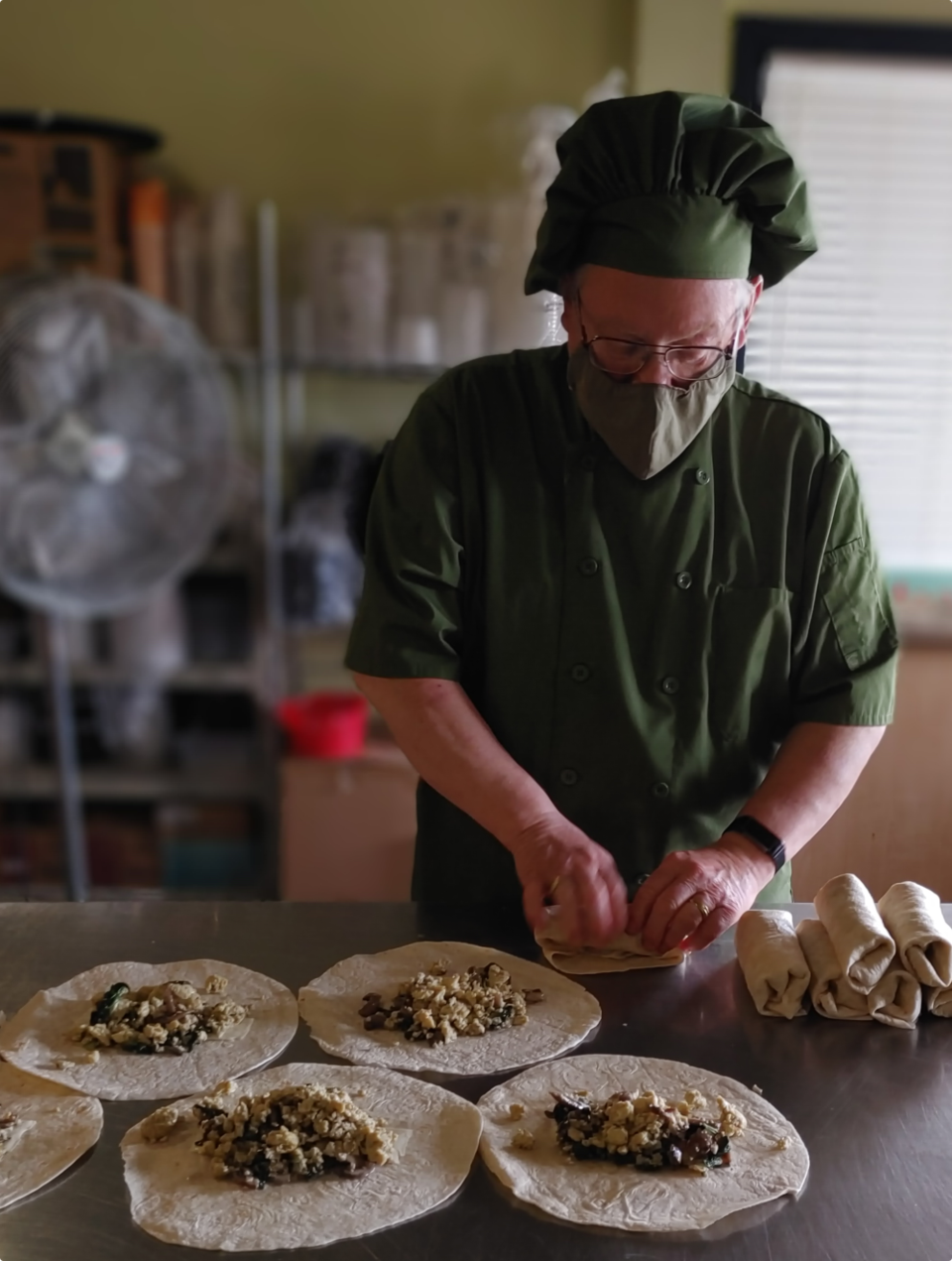 Hope House offers services and programs that challenge the stigmas surrounding poverty and allow community members to maintain their dignity and choice.
During the pandemic, Hope House received a grant to expand their breakfast program and approached Delicious Direct to provide prepared foods at a discounted price. Baker quickly agreed but insisted on donating his food.
The initial 30-a-week arrangement has grown to the current 75 breakfast burritos donated every Wednesday morning. To further his support, the Delicious Direct shopify page offers a "tip" option, with 100% of proceeds benefitting Hope House. "I promised the amount I provide will never be less than fifty dollars per month. So if tips come in at 37 dollars, I will still write a cheque for fifty. But if tips come in at 130, I'm writing a cheque for 130."
Delicious and healthy foods are a labour of love
Dan Baker was raised in Guelph and after graduating Centennial High school, he embarked on a culinary journey from managing restaurants in London to co-owning a café in China. Notes of his professional history are evident in the Delicious Direct menu which offers a refreshing choice of healthy, satisfying and sometimes eclectic meal options.
After returning to Guelph, Baker purchased Taste Fine Foods, a local full-service catering company within which he launched Delicious Direct and its single-serving model. "In 2019 I realized the individual meals conflicted with the catering and I couldn't effectively do both – so I shut down Taste Fine Foods and focused strictly on Delicious Direct, the individual meals."
Little did he know, the world was also about to shut down and his business would quickly flourish. "Everyone thought I was crazy... but it was the right move. Early into 2020 and for the next two years there was virtually no corporate catering."
The move to providing single-serving meals was not purely a business decision. "I've always thought there was a need for individually prepared meals that are fresh, healthy and delicious," says Baker. "But what really sparked it was when my father passed away and my mother started to eat poorer foods, and less often. She was picking up takeout or eating frozen pizzas and I thought, 'she needs better food'."
While his mother's well-being was the inspiration, her approval continues to set the bar. Quality is paramount and every item on the menu - from traditional favourites like Homestyle Meatloaf and Maple Glazed Salmon, to exotic Mongolian Beef Stir-Fry, to the Breakfast Burritos Baker delivered to Hope House every Wednesday - is subject to the "mom test".
Full course meals for every taste
"Something that sets us apart from the other meal services is the ability to customize the meals. For example, our Spinach Stuffed Chicken typically comes with Mushroom Risotto and Steamed Broccoli. Don't like broccoli? Switch it up with carrots or green beans. Just ask us and if we can, we will!"
All Delicious Direct meals, salads and sandwiches are prepared fresh and vacuum-packed. They will keep in the fridge for up to a week and most can be frozen, then thawed and reheated. Unlike many meal service providers, Delicious Direct uses compostable containers that are both microwave and oven safe.
And of course, every Delicious Direct meal is "Mom Approved". "When I make her meals, trust me... if there's something that's not right, I hear about it," laughs Baker.
Delicious Direct keeps its menu fresh with four new features each month to bring added variety to their clients.
Follow Delicious Direct on social media for monthly menu updates or visit the website to order online.