Geoffrey Shifflett, a resident of Guelph, admittedly had a bit of a wake-up call when he realized that his weight was having a negative effect on his life.
"I was carrying a lot of weight, and I was noticing that it was impacting my health," Geoffrey said.
"I would get winded on the stairs. I have a four-year-old niece who loves to play tag out in the yard, and I couldn't keep up with her at all. And the tipping point was when I was sitting at my office desk, and I realized that I couldn't simply cross my right leg over my left leg. These were all motivation factors that drove me to want to get in better shape."
Having been a member of a big box gym years ago, Geoffrey admits that the more traditional-style of gym made it difficult to motivate himself to go regularly.
"It was hard because you would go and there would be a million different exercises you could be doing, but there wasn't really anyone to guide me through it and tell me what I should be doing," Geoffrey said. "It was very overwhelming and frustrating, and I ended up not going anymore after just three months."
Seeking out a gym that would hopefully break this mold, Geoffrey searched extensively over Google, and he says that one gym in particular stood out to him in his mind.
That gym was Circuit 33, and Geoffrey mentioned that the Guelph-based gym caught his eye for a multitude of different reasons.
"What I liked most about Circuit 33 was that it was a smaller gym by design, and so it has a good ratio of clients-to-trainers," Geoffrey said. "They essentially offer this full support package, where you receive proper fitness training, nutrition guidance, and much more."
"The big thing was also that Circuit 33 offers this sense of accountability, because you're actually working with someone who's keeping track of your fitness progress every step of the way."
Circuit 33 differentiates itself from other gyms by being exclusively dedicated to only 75 members at a time, with a maximum of three members maximum per floor, and that is because it allows the gym's personal trainers to hone in on each individual member better, which ensures that members are able to optimally achieve their fitness goals.
Upon meeting with Randy Dowler, one of the personal trainers of Circuit 33, after getting to know Geoffrey and his goals better, Randy was able to create something called the "Game Plan" for him. The Game Plan is when the staff devises specific workouts and offers effective nutritional advice to members based on their fitness goals, which then better encourages members to attain their goals in a very efficient manner.
After having his own personal Game Plan designed for him by Randy, Geoffrey began his workout journey via the "Circuit 33 Method", which are "one-of-a-kind 33-minute circuit workouts that are infused with high-intensity cardio", according to Circuit 33's website.
The ultimate goal of the Circuit 33 Method is to help members to "burn fat, build muscle, and level up their movement", and Geoffrey says that this unique style of working out has been working wonders for his fitness journey thus far.
"The major thing that kept me motivated was the structure of having the circuits. The way Circuit 33 does it, the circuits are completely planned out for you, and I don't have to think about it because the training staff are excellent at showing me the exercises, how to do them, and watching my form every step of the way," Geoffrey said.
"It's also great because the circuit exercise routines are switched up every two weeks, which means that I can target different muscle groups and get the full body workout experience. And for someone like myself who, coming in, was not overly familiar with fitness-type of stuff, being able to really learn how to work out properly and being challenged everyday was a real selling feature."
And the results speak for themselves, as Geoffrey has been able to lose around 40 pounds after only five months of utilizing Circuit 33's fitness services.
"Initially meeting with Randy, my goals were focused on health, weight loss, and just generally feeling better in general," Geoffrey said. "As time has passed, I've reached, as well as surpassed, many of my initial goals. Working with Randy, he's been great at supporting my goals and articulating reasonable goals that are laid out into steps, which is all the more motivating, because then I am not left feeling overwhelmed or discouraged."
Randy, who has been a personal trainer for over 20 years and counting, says that he is incredibly happy with Geoffrey's progress up to this point, and he attributes Geoffrey's hard work and buying into Circuit 33's system as the major reasons for Geoffrey's success.
"Geoffrey made our job really easy, because he was willing to commit to everything we instructed him to do, and he put that trust into us right away," Randy said.
"I am proud of what Geoffrey has been able to accomplish, and Geoffrey's journey is a perfect example of what our gym is capable of when someone comes in and asks us for help and really commits to everything we offer, because we will reciprocate that commitment right back and ensure that our members successfully reach their fitness goals."
As someone who was initially overwhelmed and frustrated by traditional gyms, Geoffrey says that he definitely recommends that others should try out Circuit 33 and their unique fitness services, especially because of the results he has experienced.
"I would definitely recommend Circuit 33 because it works. They have an amazing staff that are just so supportive and will keep you accountable, because they want to see you succeed and see results that you can be proud of. They really, truly guide you along your fitness journey, and it's just so refreshing. If you're someone who is intimidated by the gym concept, like myself, I think Circuit 33 is an awesome fit!"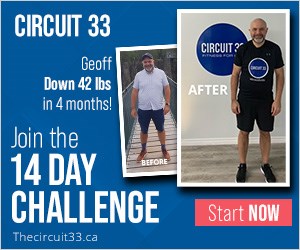 For more details about Circuit 33 and the services they offer, you can visit their website at thecircuit33.ca.
If you or someone you know would like to get started at Circuit 33, the gym is offering a 14 Day Fitness Challenge to prospective members to provide a taste of the style of workouts they offer, their training sessions, nutritional plans, and goal setting. For more information on the 14 Day Fitness Challenge or to sign up, you can find that at thecircuit33.ca/join-the-14-day-fitness-challenge/#join-the-circuit.