A good cocktail should be many things: premium, smooth—and memorable.
A good cocktail should be many things: smooth, memorable and it must deliver a great taste experience.
Yet creating a cocktail that is both flavourful and balanced is not as easy as you might think. To get some tips, we spoke to Cassidy Montague, Lead Administrator at Dixon's Distilled Spirits in Guelph.
Dixon's customers have embraced experimenting, often playing around with the local brand's flavoured Wicked Blueberry Gin, Wicked Raspberry Gin and their Silvercreek Vodka to make delicious concoctions. Sometimes they follow a recipe, other times they just wing it.
A change in season often gets connoisseurs in the mood to branch out and look for new flavour profiles. Montague and Debbie Leitert, one of Dixon's cocktail mixologists, have both approaches covered, so there's something for both recipe-followers and experimenters. These two are the ones to thank for the many creative drinks recipes on Dixon's website; follow any of these and you're guaranteed success.
Montague also has lots of tips for those who want to create their own bespoke cocktails. When she is in cocktail creation mode, she starts with a blank sheet of paper and runs through ideas based on the spirit she's using. If she's using the brand's Silvercreek Vodka, it's a pretty blank palette, so you can mix in any version of citrus or other flavours you enjoy. With Dixon's flavoured gins, which come in blueberry and raspberry, you can start by thinking about different flavours that might go well with it. You might try blood orange, any kind of citrus or grape, for instance.
It's all about personal preference, she says. When she's trying out new recipes for the first time, she works in small batches, making samples to try. "Based on which combos seem to be working really well together, I just kind of go from there and let my mind flow. If I think there should be a little more sweetness to it, I'll use a simple syrup. That sweetens without changing the taste at all, instead of adding a liqueur, which can really change up the flavour quite a bit. I'll also add different garnishes to it," she says.
To create balance in a mixed drink, Montague lives by the expression "sugar and spice and everything nice". A perfect example of this approach occurred when the team was experimenting with their Flaming Caesar Vodka, because they recognized that not everyone likes to drink Caesars. They ended up creating a spicy strawberry martini and a spicy peach martini and it was those sweet elements that really balanced the drinks out.
The spicy peach martini isn't overly spicy, but "it's definitely an experience," she says. "There is a sugar rim to the martini glass, so every sip is tamed by the sugar."
Spicy Peach Martini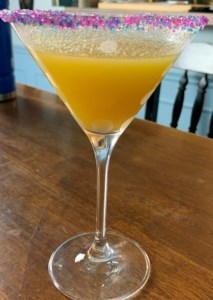 INGREDIENTS
¾ oz. Flaming Caesar Vodka
¾ oz. Silvercreek Vodka
¾ oz. peach juice
2 oz. simple syrup (equal parts granulated sugar and water, boiled to dissolve the sugar)
INSTRUCTIONS
1. Rim a martini glass with sugar.
2. Add all of the ingredients listed above to a shaker and shake well.
3. Pour mixture into martini glass. Enjoy!
Montague is hard at work perfecting her Fall-themed cocktails, so be sure to keep an eye out for those. Maple is a big flavour this season, as is pumpkin. She'll be working her magic on warm drinks too, autumnal comforts like coffee, hot chocolate and apple cider— with Thanksgiving coming up, there's also going to be champagne cocktails.
For more information, visit Dixon's Distilled Spirits. Follow them on Instagram and Facebook.