Some people spend their entire life searching for their calling, but Randy Dowler found it at 23 years old. What started as an entry-level position at a fitness centre blossomed into a lifelong love for the fitness industry.
Dowler is the owner of two Guelph-based fitness centres; Lifetime Fitness and Circuit 33, the latter which just celebrated its second anniversary.
Circuit 33 is the latest evolution in Dowler's long-time passion for health and nutrition.
After six months of selling gym memberships at a gym back in 2000, he transitioned into personal training and fell in love with it instantly. A few years later, he set out on his own with his independent personal training business.
"I really felt like I could help people," Dowler said. "With personal training, I felt like I could help make a difference. It excited me to get to know people and see results."
Guiding people on their fitness journey fascinated Dowler. Some of his clients have been with him for the long haul, as long as 10 years. Many of his personal training clients have transitioned over to his latest endeavour.
Circuit 33 differs from most gyms because it has a maximum of 75 members at one time. They limit circuit sessions to three members per floor, workouts are 33 minutes long, and members have three sessions per week. It's a simple 99-minute workout commitment per week.
Dowler developed the program to combat the two biggest barriers for people getting started: time and money.
Since it's a pre-designed semi-private workout program three times a week, the circuit program costs about one-third of a personal trainer. Circuit members still get the benefit of a trainer at each session supervising their progress.
Besides the minimal time commitment, clients also appreciate the value of the program. They don't need to hit the gym four or five times a week. It's three brief visits every week to Circuit 33, which removes all excuses from someone meeting their fitness goal.
"People love that it's 33 minutes, but it's efficient," Dowler said. "They feel like they're getting a really good workout. Within the 33 minutes, I find when I do it, I zone out. There's no stress; you don't think about work or kids, you have to be in that moment for 33 minutes."
Throughout his two-plus decades in the industry, Dowler's learned people find it difficult to carve out time three times a week to focus on themselves. But he believes the minimal time commitment, in addition to the comradery between members, helps build a sense of accountability.
He estimates around 90 per cent of his members stick to the program, showing up three times a week to sweat it out for 33 minutes at a time. There's a wide range of ages in the program, from university students to an 84-year-old who's in the circuit.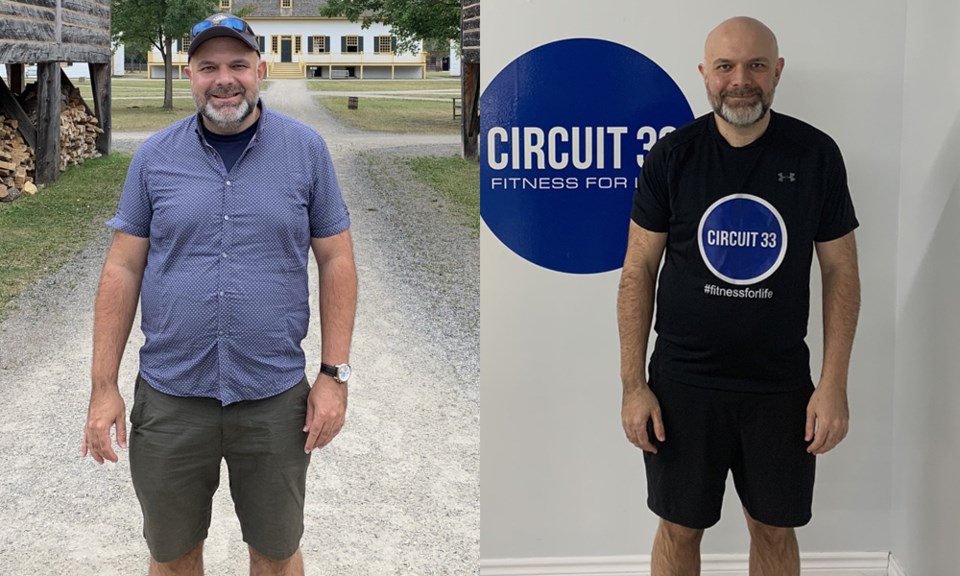 Many of Dowler's long-time clients like Carol Ann Higgins have moved over to the Circuit 33 program and haven't looked back.
Higgins started training 12 years ago with a simple goal of improving her fitness level. Within two weeks she was hooked, and fitness has become part of her regular regimen.
"When Circuit 33 opened, I knew this new approach was right for me," Higgins said. "Scheduled, supported and sustainable. The team of trainers knows me, my strengths and areas for development. They are friendly, professional and inspiring. It is fun, challenging and honestly, has made me feel my best self for many years."
John Duffy is another longstanding client and has been working towards improving his fitness level for the past 15 years. Like Higgins, Duffy was simply looking to stay active and healthy. As a 61-year-old local business owner with a busy schedule, Duffy adores the Circuit 33 program.
"I used to go to a traditional fitness club, but Circuit 33 is a way more efficient way for me to achieve my fitness goals," Duffy said. "Randy and his team are all first-class professionals who not only guide you through the circuits, but they also go beyond that. They get to know you, discuss nutrition and more to help achieve one's goals."
Over the years, the owner of Circuit 33 has seen a lot of fitness trends come and go, often touting to be the next best thing for people with time constraints. He says busy people often push fitness to the bottom of their priority list, which is why Dowler made the Circuit 33 program as simple as possible.
"That's why I believe in circuit so much," Dowler said. "We just try to make it as convenient as we can for people, because it's not easy. If you do this consistently and make some changes in your nutrition, you will be healthier and the sky's the limit."
The Circuit 33 program is simple; 33-minute designed workouts three times a week.
That's all it takes to live a healthier lifestyle. To learn more about Circuit 33 in Guelph, visit them online here.