How does a distillery go about crafting a new gin?
Jeremie Dixon, co-founder of Dixon's Distilled Spirits in Guelph, is happy to break down the multi-step process.
His craft distillery, started in 2013 with his wife Vicky, creates unique and award-winning gins, vodka and whisky. They use the highest-quality locally-grown ingredients to produce premium artisanal small-batch spirits that are hundred per cent made in Canada.
The pair's latest creation, a new raspberry-flavoured gin, drew great interest during a soft launch of the product, held at their store a few weeks ago; they sold almost half a skid in just two days. "I said to the group, I think this might be a record," recalls Dixon.
If that success is any indication, you can expect it to fly off the shelves at the LCBO when it officially launches: fresh raspberries are typically available in Southern Ontario from July to October, but this spirit should be at your store in April. Last year, they launched their blueberry gin and it was the number-one selling flavoured gin at the LCBO.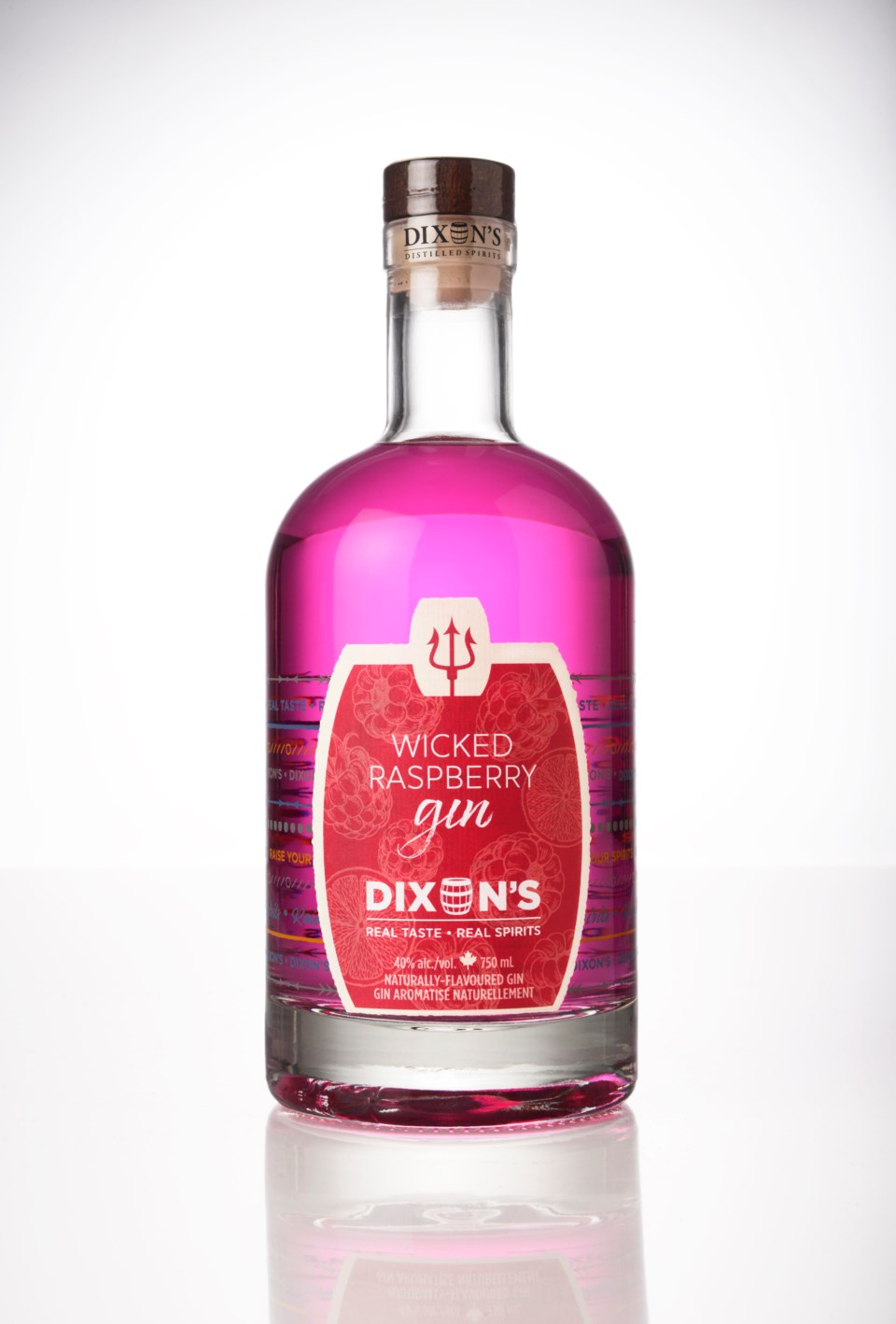 Believe it or not, the roots of any good gin, vodka or whisky product is corn. Dixon's spirits are fermented from Ontario-grown corn, then distilled 18 times—though the industry average is three to five. The liquid is carbon-filtered for 30 hours, which removes the harsher notes but leaves a hint of the corn's sweetness behind. Guelph's famously pure, clean water is added, and the result is crystal-clear, smooth-as-silk spirits.
That is the first of the two-step process. In the second, the distillers begin having some fun with botanicals.
"There's a fine art to all of this. In the beginning it definitely took a lot more understanding of different botanicals," says Dixon. "You get a little bit better at it over time the more you do it and the more recipes you try. One of the things I learned back in those early days was more does not mean better."
Some spirits may contain up to 30 different botanicals, yet you can only taste two or three. That's because some are quite overpowering and need to be carefully balanced. It takes a fine hand—and lots of experimenting.
Gin-making wasn't even part of Dixon's original business plan. The founders wanted to be whisky-makers and possibly have a few other products to offer. They struggled with the idea of making gin; so few people seemed to drink it, and most had a horror story that traces back to their college days when they swore they'd never touch it again.
"If I've heard that once, I've heard it a thousand times," laughs Dixon. "That's because we've really grown up in Ontario with only a handful of select gins. That's changing now and you're seeing the gin selection getting bigger and bigger, which is good."
That means different types and different flavours for consumers to experiment with. It's no longer limited to just the London Dry or the heavy juniper berry kind of taste.
A friend who is a master distiller at Appleton Rum encouraged the folks at Dixon's to make their own gin, rather than focusing on the other mainstays already on the market.
"With that simple advice, we set out to make a more contemporary gin that has a little bit more citrus tones than it does juniper berry," says Dixon. "And that's the key. You always have to have juniper berry in a gin, but we wanted to strengthen up some other, stronger flavours."
When it comes to crafting unique, complex gins, everyone on the Dixon's team gets involved. They decide on a style or flavour and then the experimenting process begins. It can even take a few months to get it just right. Converting measurements when scaling up is always tricky and the tweaking—a little more of this, less of that—continues right up until the eleventh hour. The distillery only uses real botanicals, not flavourings, though this comes with its own set of challenges. One batch can differ from the next in flavour and intensity, so they have to be mindful of continuity.
Dixon's Distilled Spirits was one of the very first distilleries approved by Health Canada to make the switch to making sanitizer back in February and March of 2020. At first, everything they made was donated to front line staff: paramedics, firefighters, police and hospital workers.
"We do a lot of charity work," says Dixon. "I think one of the best things that we do well is pivot very quickly. We can adapt and change fast. If we have a good idea, we can probably get it done within a couple of months. We're pretty good at doing projects quickly."
They continue to provide front line staff with complimentary supplies and their sanitizer products are also available for sale to the public.
For more information, visit Dixon's Distilled Spirits or call 519-362-3358.