Currently in the works, is a community fundraiser for a reflective garden area to pay tribute to a vibrant and dedicated Guelph General Hospital staff member and Guelph community advocate, Rev. Nancy Collett (pictured below) who passed away in December 2019.
The public space, simply titled, "Remembering Nancy" will be an accessible, outdoor space situated outside of the Delhi Street entrance of the hospital just feet away from the Reverend's original office and Chapel prior to the chapel being moved to the 5th floor in 1999.
"Remembering Nancy" will be a living canvas to remind us to take time to meet, greet, reflect, remember, rest and regroup. Initiated by a small working committee through the support of The Foundation of Guelph General Hospital and hospital administration, the tribute recognizes the endless work and accomplishments achieved by Rev. Collett, as hospital Chaplain, Hospice Wellington volunteer and throughout the Guelph community for more than 30 years.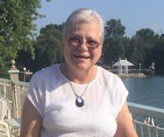 The proposed garden really is indicative to Nancy's very fabric in our community. The large centered rock, represents how her influence grounded and encouraged many to carry on when they didn't think they could. She was truly the 'ROCK' within the lives of those who met and worked with her. A blooming Rose of Sharon and ornamental grasses bring life to this canvas, reminding visitors to breathe, take a moment and relax.
During her many years at Guelph General Hospital, Rev. Nancy Collett worked tirelessly with patients, families, hospital staff and community to acknowledge and embrace many aspects of grief and loss. She loved to spend time with colleagues and friends socially. She was so much more than a member of clergy in her role at the hospital and within the Guelph Community. Outside of her dedicated work, she loved to travel and spend time with her family any opportunity she had. She spoke with great pride when she mentioned her nieces, nephews and their growing families.
Although Nancy worked intimately throughout our community with individuals and families during some of their darkest and most life-altering moments, Nancy will always be remembered as a person who embraced opportunities to celebrate life, blending high and low moments together both personally and professionally.
As a true reflection to Nancy's life and dedication to our community, an initial fundraising goal of $10,000 was achieved by mid-April. Unfortunately, as a sign of our current times due to COVID's impact on costs of materials, impending expenses required the committee to adjust the goal to $15,000. To date, the success of the fundraiser has largely been through Nancy's community connections and by word of mouth. Members of the Planning Committee say COVID's reach has not been limited to fundraising alone. As celebrations of life and public gatherings are so limited and restricted, it has become apparent community members continue to learn of Nancy's passing.
The goal of the Planning Committee is to have the new outdoor space completed in time for what would have been Nancy's birthday in mid-August. Although the project remains on track at the moment, without additional financial support through individuals and corporate donations, on time completion is being threatened. At this point, the Committee asks the community to help spread the word and consider donating to complete this project (tax receipts will be generated). All donations are welcomed by cheque at The Foundation of Guelph General Hospital, 115 Delhi St, Guelph, ON N1E 4J4 with a memo which indicates the funds are intended for "Remembering Nancy", by donating online here or by phone by calling 519-837-6422.
More information or inquiries may be sent to members of the planning committee at RememberingNancy@gmail.com.