There are a lot of choices to be made when it comes time to replace the roof on your residential or commercial property. Although asphalt shingles still seem to be the most popular option, roof damage caused by increasing occurrences of extreme weather have many people considering the long-term benefits of a steel roof.
"A steel roof will typically take a lot of abuse, even hail," said Tom Ware, President and CEO for Hy-Grade Steel Roofing in Guelph.
"The wind resistance on a steel roof is greater than asphalt shingles because of the way it is strapped and fastened down. Because the galvanized steel is pre-painted with a UV resistant coat, it makes it more resistant to the sun than ever before. There are a lot of advantages."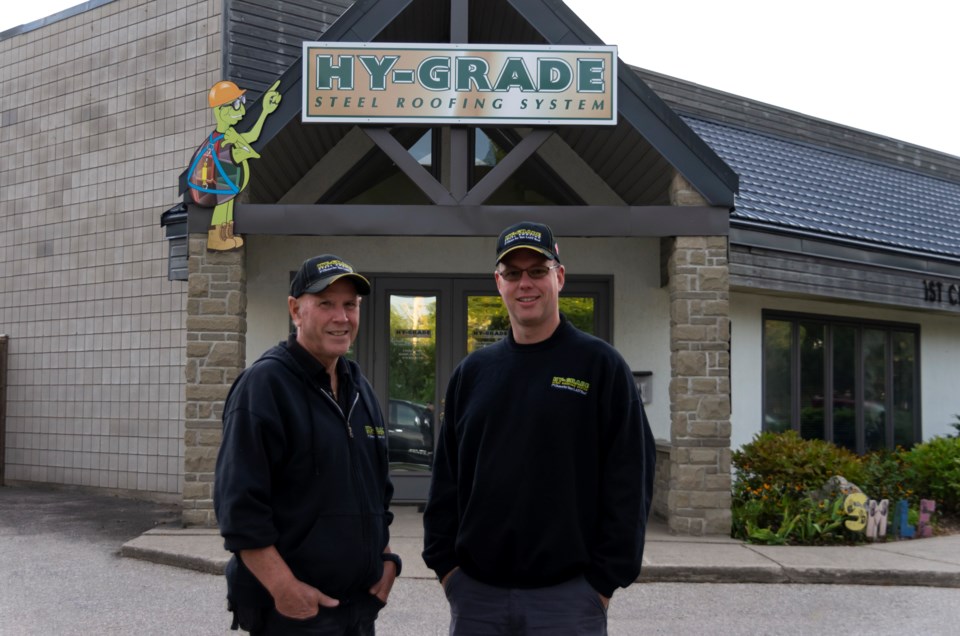 Although it appears to be relatively new in home construction, steel roofing systems have been around since the 1800s, usually installed on barns and other farm buildings. Despite the growing popularity of steel roofing systems in urban settings, Ware says there are still a lot of misconceptions consumers have about the product.
"For example, a lot of people think that a steel roof is noisy," said Ware, whose company manufactures the roofing system it installs using Canadian made steel produced in Hamilton. "People who've been in a barn with a steel roof and hear the noise in the rain get the idea that steel roof in general is noisy, but those buildings aren't insulated. Hy-Grade's is a multi-panel system. On a house that's typically insulated well you don't hear noise any more than you would with a regular asphalt roof."
While asphalt shingles are the preferred roofing system, most have a limited prorated warranty. That pales in comparison to steel roofing systems manufactured by Hy-Grade which Ware says are warrantied for 50 years but should last over 100 years.
There are also insurance benefits to installing a steel roof, which in the event of a fire can keep damage from spreading to other buildings close by. The most noticeable difference between asphalt shingles and a steel roof is the price, but according to Ware it's all relative to quality.
"To me it's an investment," said Ware, who started Hy-Grade in 1988. "If you look at 30 years ago when we first started, the average price for a home was $100,000. That same house is worth over a million now and our roof is still only $15,000 to $30,000. If you spend that on a $100,000 house that's a lot of money, but even $30,000 for a roof on a million-dollar home is reasonable given how long the roof lasts. People are starting to see that now. It's the reason steel roofs are catching on."
Hy-Grade Steel Roofing is unique in the market because it manufacturers its own products.
Ware says the growing popularity of steel roofing systems has increased competition, which means consumers have to do their research before deciding on which company they'll use to install their roof. For that reason, Ware suggests asking a lot of the following questions when dealing with a potential steel roofing company.

"Ask them what material do they use in their valleys? How they do their hips, are they capped? How do they start the project? Can the roof be walked on? What underlayment is the contractor going to use? Will they be going right over your current asphalt roof? There should be questions about the leading edge, what are they doing to protect the sheathing? And don't forget to ask the more important question – how long have they been in business and operated under the same business name? – this can greatly impact the strength and validity of your warranty."
When it comes to warranty, Hy-Grade Steel Roofing offers a 50-year no leak warranty and a lifetime workmanship warranty.
For more information, call 855-494-7233. Or visit them online here.