Whatever you thought Net Zero living might look like, you may not have quite expected this.
Net Zero homes are built to a higher standard—in literally every respect. To start, they feature super-efficient heating and cooling systems, high performance windows and better insulated walls.
216 Carrington Drive is a former model home with 3 bedrooms and 2.5 bathrooms; it's a modern, open and airy residence with interiors that are flooded with natural light. From the double-height ceiling in the entryway to the open concept living space and high-end designer finishes throughout, it's clear that a lot of thought went into each and every detail.
You're immediately drawn into the expansive kitchen, which features stunning black cabinetry with gold pulls, stainless steel appliances and an oversized island with a waterfall granite countertop.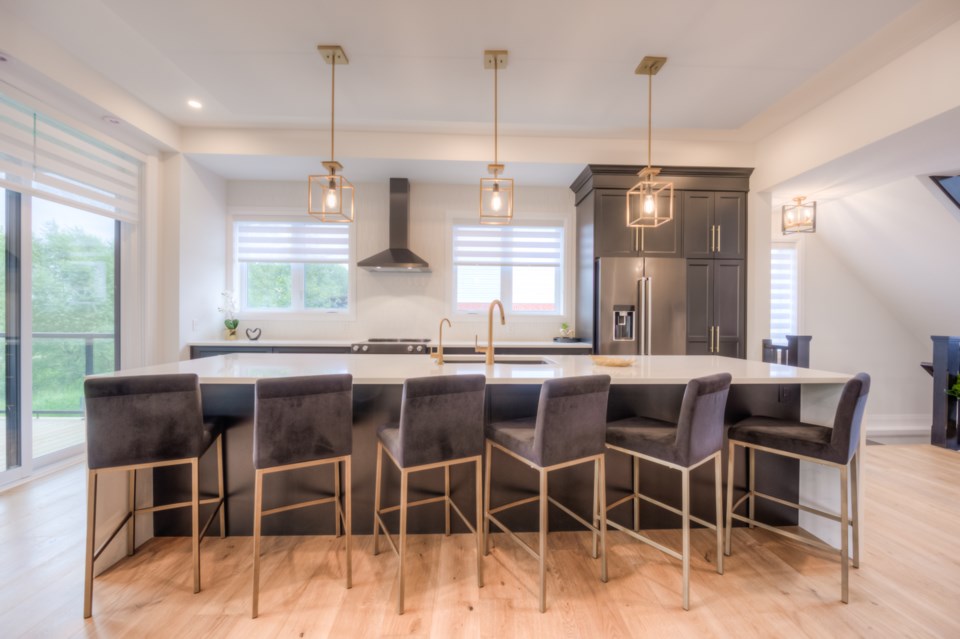 Open to the dining area and living room, this is an ideal space for hosting and entertaining. A wall of windows and a built-in electric fireplace add sparkle and a sense of coziness. Also on the main level are a powder room and walk-in pantry.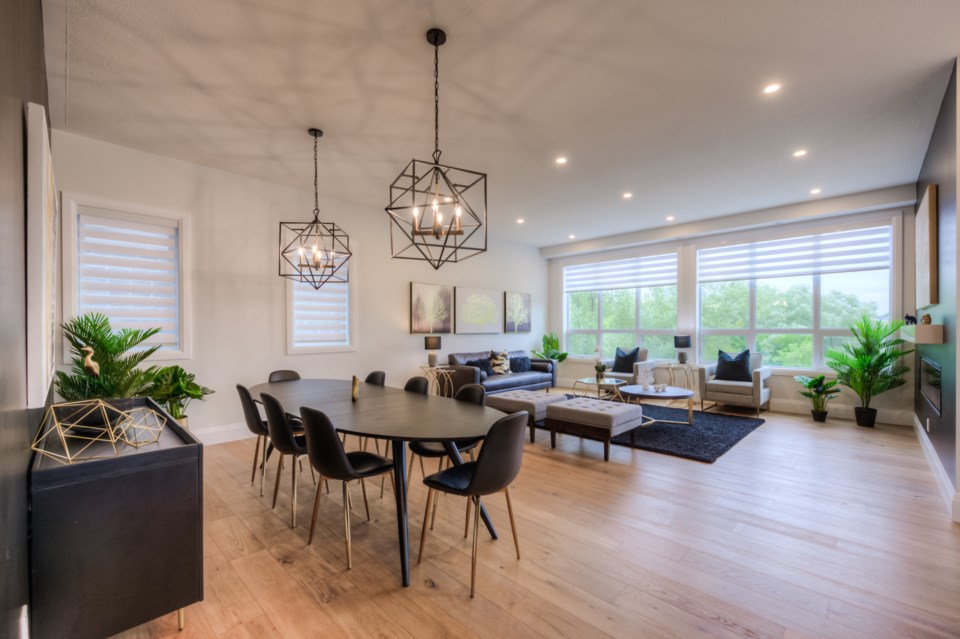 On the second level, the large primary suite has a dramatic accent wall, brass accents and custom lighting fixtures, as well as lots of room for a sitting area or reading nook.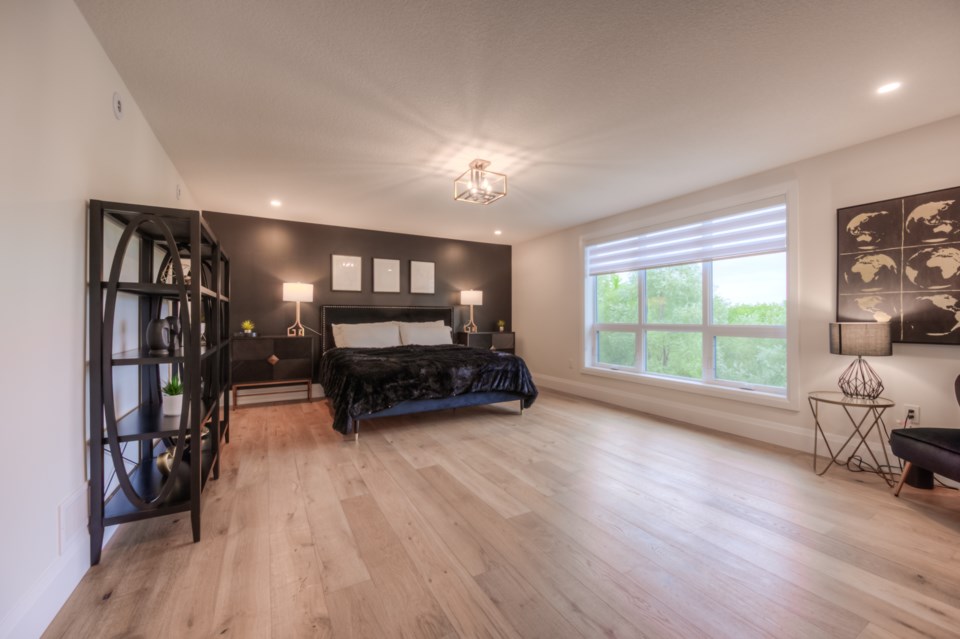 The luxurious, spa-like 5-piece ensuite features stunning designer tile, a custom shower with a convenient shower niche, glass shelving for storage, a soaker tub, a custom millwork linen closet and a walk-in wardrobe.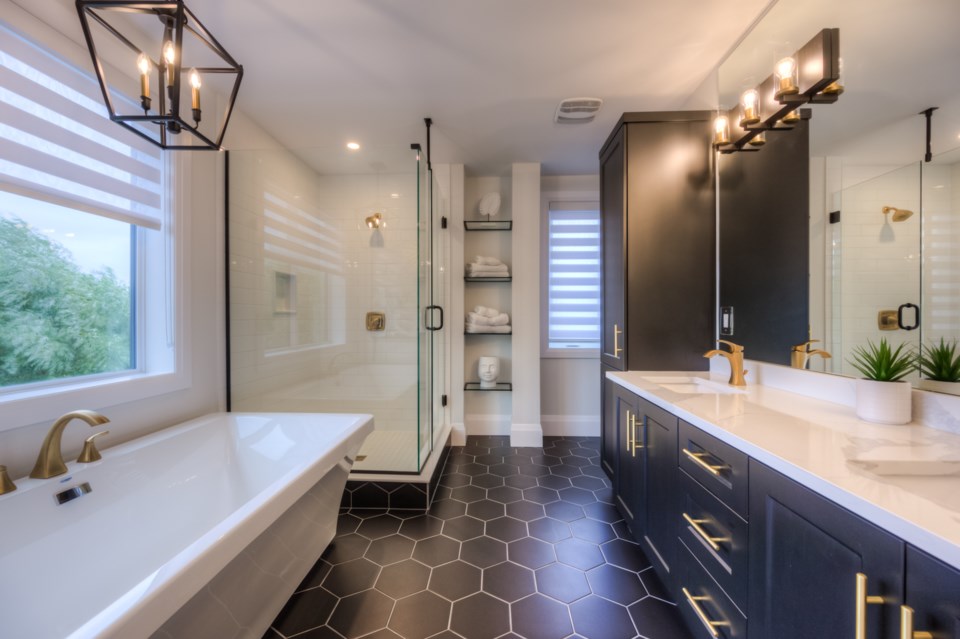 There is also a sunny family room on this floor, two additional bedrooms, a 4-piece bath and a fully equipped laundry area.
The unfinished basement offers pure potential; you can customize this space according to your vision. It's a great opportunity to truly make this home your own.
Because this is a conservation lot that backs onto green space, you have scenic views of the lush ravine setting, which you can enjoy from the private covered deck off the main floor or the patio below.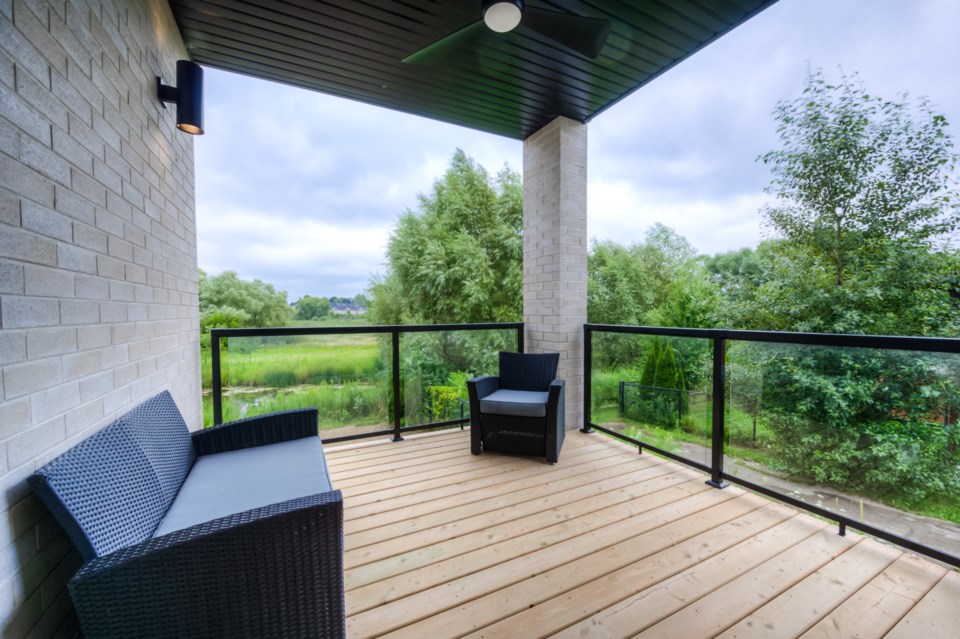 This beautiful home has been professionally designed top to bottom, with countless striking details, including extra-wide-plank hardwood floors, granite countertops, designer hardware and custom window treatments.
The sophisticated colour palette sets it apart—it's the perfect mix of modern and stylish, yet warm and inviting. Remarkably, this home is currently available with all of the brand new appliances included in the sale price!
Located in Hart Village, a desirable pocket of Guelph in the Kortright West neighbourhood, it is part of a mixed residential development by Terra View Homes. This is Guelph's first full Net Zero Ready community, and it sits on what was once the old Hart Farm Homestead.
The home was designed with cost-effective and sustainable materials. It also provides the ability for a potential legal rental unit or accommodations for multigenerational living.
This quintessential family home is just a few blocks from coffee shops, restaurants, grocery stores, and shopping at Stone Road Mall. It's a few minutes' walk from Rickson Ridge Public School, one of the top-rated schools in Guelph, and close to Preservation Park, Hanlon Creek, and numerous other trails and parks. It's an easy drive to the 401 and just 10 minutes to the amenities of downtown Guelph.
"This thoughtfully curated home is quick closing, move-in ready and offers the best in design selections and upgrades—ideal for modern living," says listing agent Lisa Schuett. "Equipped with brand new appliances, and the added bonus of being Net Zero, it really is a dream home."
A bit more about Net-Zero:
This home displays a full Net Zero solar array and was constructed to better than Net Zero requirements, shielding the buyer from increases in energy costs", says Schuett. "With a focus on natural lighting and ventilation, the second-floor hallway soars into a clerestory of windows that can be remotely opened to take advantage of the stack effect of thermodynamics while providing natural lighting in the middle of the home."
In addition to being Net Zero, this home is equipped with an energy-efficient furnace and central air conditioning via heat pump, an energy recovery ventilator that provides fresh air for a healthy home and a power pipe to save money by reducing wasted energy.
Living in a Net Zero home means:
more comfort and an improved lifestyle
availability of ample natural light throughout the home
superior insulation and soundproofing from home design and triple-pane windows
the ability to control the home's temperature using natural light and ventilation
high quality floor, wall and ceiling insulation
heating and ventilation systems that provide a comfortable level of humidity and prevent the growth of mold
better indoor air quality with less dust and fewer allergens
durable and low maintenance construction, and
an efficient layout that maximizes usable living space and creates a spacious, aesthetically pleasing environment.
To see more of this home, take a virtual tour. REALTOR® Lisa Schuett of Planet Realty Inc. can be reached at 519-841-2979 or via email at lisa@terra-view.com.